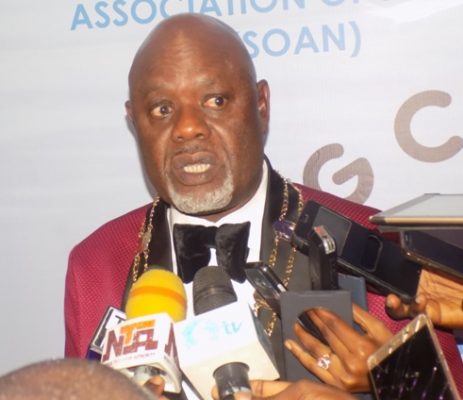 The immediate past President, Ship owners Association of Nigeria (SOAN), Engr. Greg Ogbeifun, has called on the Federal Government to conduct a forensic audit of the close to $1billion that has accrued into the kitty of the Nigerian Maritime Administration and Safety Agency (NIMASA) through the Cabotage Vessel Financing Fund (CVFF). 
The CVFF, which is derived from two percent of the contracts awarded under the cabotage regime, was designed to enable ship indigenous shipping companies acquire adequate tonnage to be able to participate in coastal trade currently dominated by foreign ships.
However, 15 years after the establishment of the Act, NIMASA, which is the agency responsible for managing and disbursing the fund, despite repeated promises, has failed to disburse it to any ship owner.
Speaking with SHIPS & PORTS in reaction to a recent claim by the Director General, NIMASA, Dakuku Peterside, that the fund in the CVFF is close to $200 million, Ogbeifun faulted the claim, insisting that with the enormous contribution of ship owners, the fund should be running close to $1billion.
According to him, "The CVFF fund is not $200 million. It is more than that. It is probably over $1billion if you look at all ship owners operating in this country, both local and foreign, making their contribution into that fund, we need to get to the root of that.
"The government must carry out a forensic audit of every dime that has been paid into that fund by ship owners. They can appoint auditing firms, the likes of Deloitte Akintola Williams, to do an audit of the fund that has accrued. The records are there. Everyday we hear people throwing different figures, nobody actually is sure how much ever has gone into that fund. Let us not mind what has been taken away from it or how it was squandered. Let us know what amount has accrued since inception. That is the starting point.
"When we have done that, the mode of disbursement becomes simple. When we have established that, we put in place a strategy to ensure that every player in the industry, who is required to contribute to that fund, must contribute to that fund."
Ogbeifun said if the Nigerian Content Development and Monitoring Board (NCDMB) is able to work with the Bank of Industry (BOI) to support indigenous ship owners, NIMASA should also follow that step even if it means going to the National Assembly to get an amendment to the law.
Noting that it will be difficult for private entrepreneurs to succeed without financial support from the government, Ogbeifun called on government to create a more conducive financial environment for businesses of indigenous ship owners to thrive.