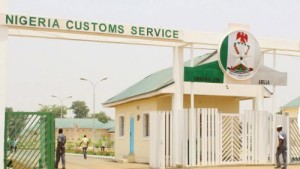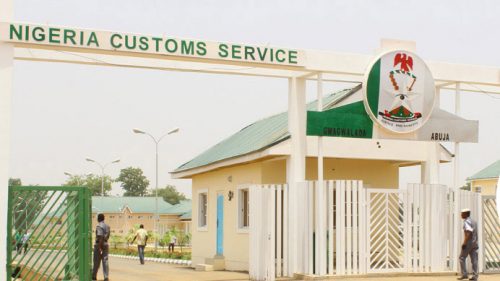 The Ogun Area Command of the Nigeria Customs has impounded five exotic brand new and second hand vehicles worth millions of naira.
The vehicles include a Lexus Jeep, 2015 model; Benz 350, a Toyota sienna and a Toyota hilux used in conveying smuggled rice.
Area Controller of the command, Comptroller Hassan Gandua who took journalists round the seized vehicles on Wednesday at Idiroko when the new Zonal Coordinator in charge of Zone 'A' Assistant Comptroller General of Customs, Monday Abueh visited the command said the vehicles were seized at Alare borders.
Abueh said the vehicles were smuggled into the country on Sunday, January 30th despite the existing ban on importation of vehicles through the land borders.
He said the smugglers on sighting customs operatives abandoned the vehicles and fled through the bush paths.
The Customs boss explained that a siren was affixed to the Toyata hilux which has an official naval plate number to beat customs check and allow for easy passage.
"Unfortunately for them, our men were on full alert and they were apprehended. The officers open fire and bust the tyre of the Toyota hilux. That was how the vehicle was able to come to a stop but the driver ran away.
"Investigation will be carried out to know the origin of the plate number whether it is manufactured outside the federal road safety system.
"All this took place after the ban but we will continue to make seizures if they attempt to continue to smuggle. It will be good if everybody adhere to this policy so that we can divert attention to other areas but if they attempt to bring in the vehicles, we will continue to arrest them.
"Normally when you chase them, they will abandon and enter the push. In pursuit to get all those involve in the smuggling of the cars, we have the vehicles in our custody. Investigation is ongoing and I am sure we get to the root cause of how these vehicles come in," he said.
Controller of the command, Gandua also disclosed that no fewer than 1,000 motorcycles used in smuggling of rice through the borders have been seized by the command.
He assured that the command will continue to do its best in combating smuggling of rice and other prohibited goods in the area.
"We have almost 1,000 okada's at the command. So we have been arresting the smugglers and even the means of smuggling these commodities. Like two months ago, we seized a tanker load of rice. All these are done to checkmate and stop smuggling but yet they still do. Even yesterday (Tuesday), some cars of rice were arrested by my officers. But we will continue to do our best because we are up to the task," he said.
Copyright 2016 Ships & Ports Ltd. Permission to use quotations from this article is granted subject to appropriate credit given to www.shipsandports.com.ng as the source.