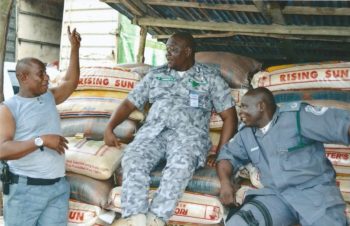 The Ogun Command of Nigeria Customs Service (NCS), has recorded 30 seizures with Duty Paid Value (DPV), of N53.3million.
Acting Controller of the Command, Agbara Michael said the feat was achieved within two weeks of his supervision at the command.
Speaking to reporters at Idiroko, the Deputy Comptroller noted that the command is working round the clock to consolidate and improve on the records, as well as the structures he met on ground.
He said: "I took over Ogun Command precisely on Wednesday, April 17, 2018, and I said clearly that I would consolidate and improve on the performance of my predecessor. The fulfilment of my promise can be justified based on successes recorded during this period under review (from April 17 to May 2, 2018). During this short period, a total of 30 seizures with Duty Paid Value, DPV, of N53.3million have been made.
"The items seized include; 28 tokunbo vehicles, 24 means of conveyance, 3,041 bags of foreign rice, 14 bags of foreign sugar, three bales of second hand clothing, 295gallons of vegetable oil, 211 gallons of petrol and 99 compressed packs of Cannabis sativa (commonly known as Indian Hemp), among other items.
"In the same vein, four suspects were arrested in connection with smuggling of various prohibited items. One out of the four has been arraigned at the Federal High Court, Abeokuta and others will follow soon."
The Customs boss said the seizure of the sure an amount of rice will surely impact on the Federal Government policies on Agriculture development, particularly in the area of boosting local rice production.
He noted that the seizure of petroleum product intended to be smuggled out of Nigeria by some economic saboteurs is a sound bite to intending smugglers of such items, while the cannabis sativa seized has thwarted the devilish motive of some drug traffickers and addicts.
Michael said the command has succeeded in meeting with critical stakeholders, including neighbouring colleagues of Benin Republic. Some of the stakeholders visited include; Head of Customs in Igolo of Benin Republic, Commissioner of Police, Ogun State, Alake of Egbaland, the Director of DSS, Ogun State, all Heads of sister security agencies within Idiroko border, among other stakeholders.
He said the aim of such visits is to promote synergy geared towards effective and efficient service delivery.