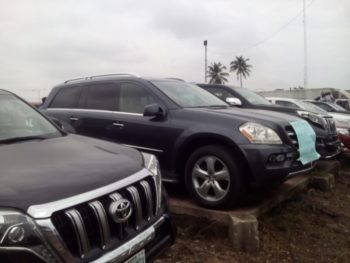 The Nigeria Customs Service (NCS), Federal Operations Unit (F.O.U.) Zone 'A'  Ikeja, has intercepted contraband with a Duty Paid Value (DPV) of N1.34 billion and through interventions, recovered N59.50 million.
The Area Controller of the command, Comptroller Mohammed Uba, made the disclosure on Wednesday to journalists in Lagos.
Uba said that the seizures were made between May 16 and June 12.
According to him, the DPV of the seizures and interventions within the period under review accumulated to N1.40 billion.
The interventions were made from duty payments and demand notices on general goods that tried to beat the system from seaports, airports and border stations in the guise of false declaration.
He said that 12 suspects were arrested in connection with the 112 seizures.
Uba said that the seizures were: 15 vehicles including three Toyota C-HR (2018 model); 1 Toyota Camry LE 2018; 1 Toyota Prado 2018; 1 Toyota Hilux 2017; 1 Ford F150 2017; 1 Pajero Jeep 2017; and 1 Mercedes Benz 2017, among others.
He said, "Other seizures include 9,049 bags of foreign parboiled rice in 15 trailers; 1,464 cartons of frozen poultry products; 870 jerry cans of vegetable oil; 273 bales of used clothing; and 592 pieces of used tyres.
"A total of four containers have been seized for false declaration. Two of the containers were carrying 8,633 pieces of empty cylinders as against plumbing materials declared in their Single Goods Declaration (SGD) forms.
"The other two containers had 120 bales of new jeans as against punching machines declared in the SGD.''
According to him, to ensure full implementation of the government policy banning the importation of rice through land borders and following headquarters' directive, the command has re-strategised its operational modalities.
The unit controller said that the command had continued to beam its searchlight on the creeks, waterside and at various locations in Southwest zone, which led to the massive seizure of rice within the period under review.
Uba said that the unit would continue to ensure that smugglers within its areas of jurisdiction count their losses until they repent from sabotaging the economy.
He said, "As you already know, smuggling is a global phenomenon that cannot be eradicated entirely but if all hands are on deck it will be reduced to its barest minimum.''
Uba commended the resilience and doggedness of officers who had put their lives on the line in making the seizures, most especially the interception of 15 trailers of rice, which was a big battle at the creeks and bush parts.
The controller appreciated the Comptroller-General, Retired Col. Hameed Ali and the NCS management for providing logistics support which aided the seizures.
He, however, commended the media for the partnership in sensitising and educating the general public on the evil of smuggling.
Uba urged economic saboteurs and fraudulent importers as well as agents to invest their resources in legitimate trade and desist from smuggling activities.