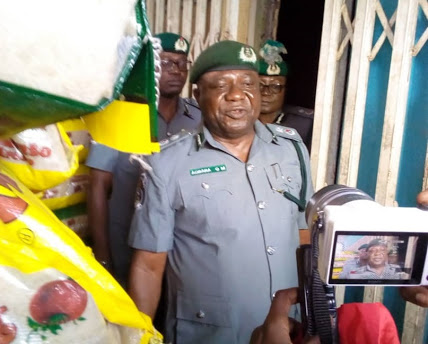 The Ogun Area Command of Nigeria Customs Service (NCS) has seized 343 pieces of Itel smart phones smuggled into the country from Benin Republic.
According to a press statement issued over the weekend by the Public Relations Officer of the Command, Abdullahi Maiwada, the phones were packed in 100 cartons. 
Maiwada quoted the Controller of the Command, Comptroller Michael Agbara, as saying that the phones were dutiable but were seized because the importer refused to disclose them at the point of entry. 
Agbara disclosed that the command had also confiscated 197 vehicles; 29,905 50kg bags and 15 units of 25kg bags of foreign rice smuggled into Nigeria between January and June this year.
He said the command also seized 1,181 kegs of petrol; 1,466 kegs of vegetable oil, 17 units of motorcycles, 143 book size, 21 coconut size and 11 sacks of Cannabis Sativa within the review period.
Agbara said that the command's revenue generation, suppression of smuggling drive, facilitation of trade and protection of the society yielded positive results within the period, as the command recorded N6.7 billion surpassing its target of N3.86 billion.
He, however, expressed concern that the anti-smuggling drive has led to some loss of lives and properties during a series of encounter with those he called "daredevil smugglers and accomplices".
"The seizure of over 29,905 bags of rice in the first half year of 2019 is indeed a landmark among numerous successes recorded as compared to 15,976 bags of rice seized during the corresponding period of the year 2018.
"However, the above activities were entangled with series of clashes between officers of the command and some dare-devil smugglers/accomplices leading to loss of lives and properties in the process.
"The command will continue to dialogue, engage, sensitize and educate the public on the social, security, health and economic implication of smuggling, while on the other hand, the statutory functions of enforcing compliance with strict adherence to the law will be rigorously sustained," Agbara added.