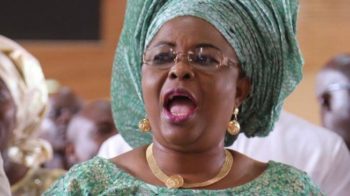 Ohaneze Youth Council, OYC, has applauded members of the House of Representatives for asking for unfreezing of some bank accounts of former First Lady, Dame Patience Jonathan.
It will be recalled that Mrs. Jonathan had months ago petitioned the lawmakers, accusing the Economic and Financial Crimes Commission, EFCC, of harassing her.
She also stated that her accounts in some banks were frozen by the anti- graft agency investigating her of corruption allegations.
The House of Representatives after hearing the motion mandated its Committee on Public Petition to entertain the matter.
At a resume hearing on the matter, Tuesday, the Committee discovered that due process was not followed in freezing the accounts.
It stated that there were no specific restriction orders from any competent court of law.
Consequently, the Chairman of the committee, Hon. Uzoma Nkem-Abonta in his ruling said, "we are not siding anybody, but the committee hereby direct all the banks concerned to defreeze all the accounts that have no specific restraining order from any court, or the EFCC."
Reacting to the development yesterday, the OYC in a statement signed by National Vice President, Comrade Obinna Achuonye and National Public Relations Officer, Engr. Obinna Adibe lauded the federal lawmakers for standing on the path of truth and justice, stressing "the era of hiding under the cloak of anti-corruption to persecute some select Nigerians should totally be brought to an end."
The statement also stated that "these crop of Reps members have no doubt proved to be another bastion of hope for the common man."
The statement further stated that "We thank them for taking a firm decision to stand on the path of truth and justice; for refusing to be cowed into doing the bidding of the powers that be.
"May we also use this medium to tell the EFCC to forthwith stop this idea of engaging in illegalities under the guise of anti-corruption.
"The commission should do well to adapt to democratic tenets where due process prevails in conducting affairs of State.
"It is equally apt to add that this idea of engaging in media trial of some Nigerians, simply because of where they come from, is not the right way to go.
"The EFCC should also ensure completion of investigation before clamping down on innocent Nigerians, simply because of spurious petitions from faceless individuals.
"While we laud the House of Reps, we call on the EFCC and all the concerned banks to comply with this order of the House of Representatives. Anything short of that will amount to another act of lawlessness on the part of the commission."