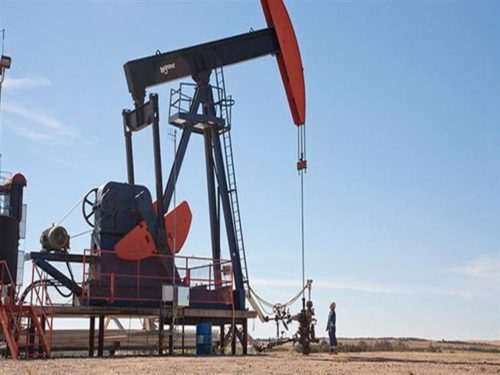 Brent crude oil prices on Monday fell more than 1 percent after the United States said it may grant waivers to sanctions against Iran's oil exports next month.
This is as Saudi Arabia was said to be replacing any potential shortfall from Iran.
International benchmark Brent crude oil futures were at $83.26 per barrel at 0352 GMT, down 90 cents, or 1.1 percent, from their last close.
U.S. West Texas Intermediate (WTI) crude futures were down 54 cents, or 0.7 percent, at $73.80 a barrel.
U.S. sanctions will target Iran's crude oil exports from Nov. 4, and Washington has been putting pressure on governments and companies worldwide to cut their imports to zero.
However, a U.S. government official said on Friday that the country could consider exemptions for nations that have already shown efforts to reduce their imports of Iranian oil.
In a sign that Iran oil exports won't fall to nothing from November, India will buy 9 million barrels of Iranian crude next month, Reuters reported on Friday.
Hedge funds cut their bullish wagers on U.S. crude in the latest week to the lowest level in nearly a year, data showed on Friday.
Traders said ongoing concerns that the U.S.-Chinese trade war could slow down economic growth also weighed on crude on Monday.
China's stocks fell sharply on Monday despite an announcement from Beijing over the weekend that it would slash the level of cash that banks must hold as reserves, a sign of underlying investor anxiety over the heated Sino-U.S. trade war.
Further weighing on oil prices was "chatter that Saudi Arabia has replaced all of Iran's lost oil", said Stephen Innes, Head of Trading for Asia-Pacific at futures brokerage Oanda in Singapore.
But Innes warned that limited spare production to deal with further supply disruptions meant "the capacity is quickly declining due to Asia's insatiable demand".
The U.S. oil drilling rig count fell for a third consecutive week, as rising costs and pipeline bottlenecks have hindered new drilling since June.
Drillers cut two oil rigs in the week to Oct. 5, bringing the total count down to 861, energy services firm Baker Hughes said in its weekly report on Friday.
That is the longest streak of weekly cuts since October last year.
With Iran sanctions still on the table, potential spare capacity constraints and also a slowdown in U.S. drilling, U.S. bank, J.P.Morgan, said in its latest cross-asset outlook for clients that it recommended to "stay long Jan '19 WTI on supply risks to crude."