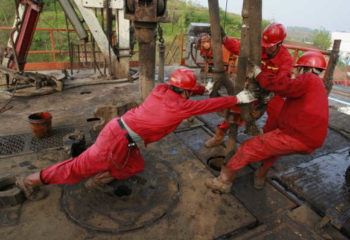 Oil fell on Wednesday after a surprise rise in U.S. inventories of refined products that suggested demand may be flagging.
Brent crude futures were down 79 cents at $62.07 a barrel by 1253 GMT, after reaching a session high of $62.93, while U.S. crude futures dropped 81 cents to $56.81.
With global equities under pressure from sliding technology stocks and the U.S. bond market suggesting investors are cautious about the economic outlook, industrial commodities such as crude and copper are feeling the pinch.
Supply cuts by the Organization of the Petroleum Exporting Countries (OPEC), Russia and other producers that were extended at a meeting last week for the rest of 2018 have helped lift Brent prices by more than 40 percent since June.
But the price has slipped from November's peak at around $65 a barrel, the highest since mid-2015.
"The turn-down in risk sentiment is a nice justification for why you might want to pare down some of the long positions taken going into the OPEC meeting," London Capital Group's Head of Research, Jasper Lawler said.
"If you are looking across the asset spectrum and looking to sell things that have done well, then oil fits into that category," he said.
Traders said prices fell after an American Petroleum Institute (API) report on Tuesday that showed a 9.2 million barrel rise in gasoline stocks in the week ended Dec. 1, and an increase of 4.3 million barrels in distillate inventories, which include motor diesel and heating oil.
PVM Oil Associates strategist Stephen Brennock said the increase appeared to be seasonal. "This bears all the hallmarks of a year-end lull in U.S. fuel demand which in turn should help safeguard the current bout of range-bound trading," he said.
Another factor weighing on prices has been a rise in U.S. oil production, which has climbed by 15 percent since mid-2016 to 9.68 million barrels per day, close to levels of top producers Russia and Saudi Arabia.
Agency Report