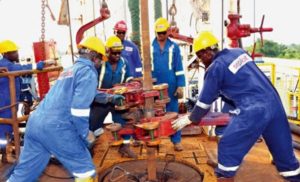 Latest figure released by the National Bureau of Statistics (NBS), in its first quarter 2017 selected banking sector data shows that outstanding loans to the energy industry by Nigerian banks rose by 1.25 percent to N5.65 trillion as at end of the quarter. The data also shows that the total loans appreciated by N68 billion from N5.582 trillion recorded at the end of the fourth quarter of 2016. 
The loans were released to fund activities in the oil and gas firms and the power and energy firms according to the report.
The NBS report shows that in the industrial sector, the banking sector credit to oil and gas firms stood at N3.576 trillion at the end of the first quarter of 2017; while outstanding loans to the power and energy sector stood at N472.084 billion.
In the services sector, that total loans to oil and gas and power and energy firms stood at N1.296 trillion and N305.976 billion respectively.
Conversely, as at the end of the fourth quarter of 2016, banking sector credit to oil and gas and power and Energy firms in the industry sector stood at N3.587 trillion and N432.3 billion; while in the services sector, oil and gas firms received a total of N1.268 trillion; power and energy firms received N293.993 billion.
The NBS said that in general "in terms of credit to private sector, a total of N16 trillion worth of credit was allocated by the banks in the first quarter of 2017. Services and Industry got credit allocation of N9.25 trillion and N6.19 trillion to record the highest credit allocation in the period under review". 
As at last quarter, 2017, Nigerian banks were battling imminent liquidity crisis over huge exposure and non-performing loans to oil and gas and power sector, which was in excess of N4 trillion.
The situation is made it difficult for operators in the oil and gas and power to secure loans for operations.
Head, Energy Research, Ecobank Group Dolapo Oni said the banks could not release funds as at then to oil and gas industries because there was no fund to release but needed to go and raise money in the capital market.
He stated that this year, a lot of banks had to go the market to raise capital "because if they don't raise capital, there will be nothing to lend".
This obviously may have informed the increase in the outstanding loans.     
Copyright 2017 Ships & Ports Ltd. Permission to use quotations from this article is granted subject to appropriate credit given to www.shipsandports.com.ng as the source.