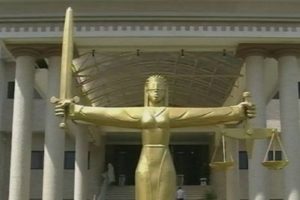 Justice Raliat Adebiyi of the Lagos High Court, Ikeja, on Wednesday sentenced an oil marketer, Abubakar Samaila, to 21 years imprisonment for stabbing his partner, Sanni Mohammed, to death.
Samaila, 23, was arraigned on a one count charge of murder by the state government.
The prosecutor, Bukola Akani, said the convict committed the offence on the May 31, 2013 at about 5:00 p.m. along Ibira Street, Idi-Araba, Mushin, Lagos.
Akani said the convict and the deceased were partners in the same oil business and had gone to sell the product to a doctor (name withheld).
She said the doctor rejected the oil because it was mixed with water.
According to her, deceased later gave the oil to another person who sold it back to the doctor.
The prosecutor said, "When the convict confronted the deceased on the sale of the oil, an argument ensued and led to a fight.
"The convict took out a knife and stabbed the deceased on the left side of her chest during the fight.
"The woman died not too long after the stabbing."
Justice Adebiyi in her verdict convicted the defendant for involuntary manslaughter.
She said: "The court hereby finds you, Abubakar Samaila, guilty of involuntary manslaughter and convicts you in accordance with the provisions of Section 222 of the Criminal Law of Lagos State 2011."
"The defendant is hereby sentenced to 21 years imprisonment. The sentence shall commence from the date of his remand at the Ikoyi Medium Prison."