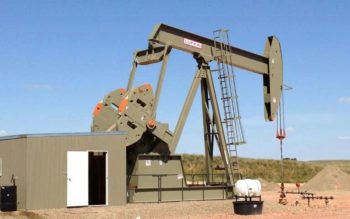 Crude oil prices rose on Friday after the Saudi Energy Minister, Khalid al-Falih, said OPEC would need to keep coordinating supply cuts with non-member countries including Russia into 2019.
The rise in oil defied global stock markets, which slumped on worries about a trade stand-off between the United States and China. Gold XAU=, seen as a safe haven, hit a two-week high.
U.S. President, Donald Trump, had signed a memorandum on Thursday that could impose tariffs on up to $60 billion of imports from China, while China unveiled plans on Friday to impose tariffs on up to $3 billion of U.S. imports.
Brent crude futures were at $69.18 per barrel at 0918 GMT, up 27 cents on the day but off a session high of $70. For the week, Brent was up about 4.5 percent, its strongest showing since October last year.
U.S. West Texas Intermediate (WTI) crude futures were at $64.67 a barrel, up 37 cents. On the week, WTI was up about 3.7 percent.
Khalid al-Falih said on Thursday that OPEC members would need to continue coordinating with Russia and other non-OPEC oil-producing countries on supply curbs in 2019 to reduce global oil inventories.
Since January 2017, the Organization of the Petroleum Exporting Countries, of which Saudi Arabia is the de-facto leader, as well as a group of non-OPEC countries led by Russia, have curbed output by 1.8 million barrels per day to counteract surging U.S. production.
Although analysts said the stand-off between the United States and China could hit oil markets, for now most said demand looked healthy.
Head of Energy Research at BRS Brokers, Andrew Wilson, said, "Geopolitical tensions are coming to the front. But global balances are relatively tight at the moment. That's enough to amplify relatively small factors,"
Morgan Stanley also cited an expected pick-up in seasonal demand in the coming months.
"We are only three-four weeks away from peak refinery maintenance, after which crude and product demand should accelerate. Global inventories are already at the bottom end of the five-year range," the U.S. bank said.
"There are sufficient reasons to expect oil prices to strengthen further from here, and we stick with our (Brent) $75 per barrel call for Q3," Morgan Stanley said.
Agency Report