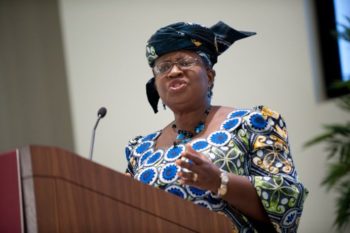 Former Minister of Finance and Coordinating Minister of the Economy, Dr. Ngozi Okonju-Iweala, says Nigeria is suffering from inconsistent government policies.
"One of the things I think we suffer is policy inconsistency. We start policies and we don't continue it maybe a new government comes in or a new manager in a government department, all the policies that are in place are questioned so business people don't know what environment to operate in," the former World Bank Managing Director said.
Okonjo-Iweala also revealed how she had strong optimism in Nigeria when she was a teenager.
"When I was 18, the world seemed open, prospects from my country seemed good; we had come out of a war, we were united and rebuilding so it seemed like a place where there was a lot of opportunities because we were reconstructing the country, there were a lot of jobs," she said on a panel at the Mo Ibrahim Forum in Morocco.
"I had very high expectations of a country where it would have what it needed infrastructure wise and people could go up and down the ladder anywhere they pleased."
Okonjo-Iweala described unemployment as the biggest problem Nigeria, saying it cannot be solved without a conducive environment.
"When we think about creating jobs, which is the biggest problem our economy is faced with, we want to get very practical to talk about what we should be doing rather than the theory," she said.
"One thing is important, you can not create these jobs unless you have a conducive environment in the economy that enables and encourages your domestic private sector to invest as well as the foreign private sector so that is where it begins."
The economist said small and medium enterprises are most important part of an economy.
"Small and medium enterprises are the most important in our countries. We need to think about how to make it easy for someone who is starting a business to register it and employ people not having to go through hurdles. When we put those policies in place, making sure we have stable macroeconomic environment then we need to be consistent," she said.
Copyright Ships & Ports Ltd. Permission to use quotations from this article is granted subject to appropriate credit given to www.shipsandports.com.ng as the source.