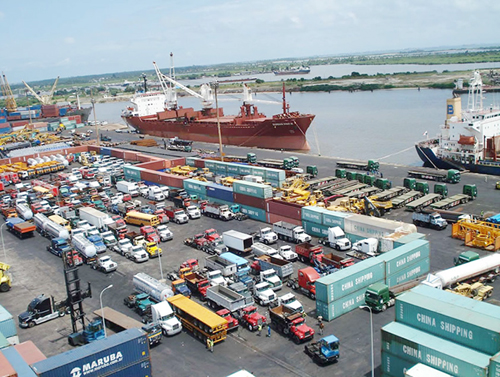 The General Manager of PTML Terminal, Tin Can Island Port Complex, Lagos, Babatunde Keshiro, has said that old and dented vehicles constitute the large number of vehicles being imported into the country since the implementation of the auto policy, which saw import duty on vehicles rose from 20 percent to 70 percent.
Speaking in a chat with SHIPS & PORTS DAILY in Lagos on Tuesday, Keshiro attributed the trend to the less duty importers are expected to pay on accidented vehicles. 
He noted that while the auto policy has reduced the volume of imported vehicles, there is however little improvement when compared to what was recorded last year.
"In terms of what is coming in now, it is better than last year but it is not yet at the level that we can say the terminal is full. If we look at it against the prevailing socio-economic environment in the country, the volume of vehicle coming in is relatively tolerable but there is every opportunity for it to be better.
"On a monthly basis, the volume coming into the country used to swing between 25,000 to 28,000 unit per month but now, all of us are just swimming around between 12,000 and 13,000 which is about half of what we used to do. At PTML, we are doing close to 8,000 and 9,000 but before now we are doing about 16,000 to 18, 000 on a monthly basis.
"(Cost of) vehicle clearance is still high and that is why majority of the vehicles being imported into Nigerian ports are third grade Tokunboh vehicles. They are not the first grade. 
"What I mean by third grade is that they are 'accidented' vehicles. Most of them are between 13 to 14 years old and even 'accidented'. The range of 2014 to 2015 year vehicles is very small in number," he said.
Meanwhile, the terminal manager has called on the Nigeria Customs Service (NCS) to commence the auction of overtime cargoes, which he said is threatening available space at the terminal.
According to Keshiro, over 1,000 uncleared vehicles currently litter the terminal thus impacting on the use of the terminal space.
He said, "The space that is supposed to be given to new cargo is being locked up with all the associated cost of handling the overtime cargo at the terminal. It is on record that since 2015, Customs has not done any cargo auction in the port, be it container or vehicles. The last time they had auction in the port was August 2015 and since that time, we have not recorded any.
"They say they wanted to do e-auction but we are still waiting for it to be implemented for overtime cargo at the port. Electronic auction was done for seized cargoes at the border locations and at FOU but when it comes to overtime cargoes at the ports commands, we have not recorded any single auction of overtime cargo since August 2015."