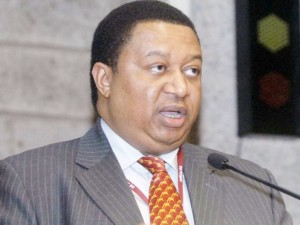 The Organisation of Petroleum Exporting Countries (OPEC) can no longer ignore the impact that financial markets are having on the physical oil market, Secretary General Mohammed Barkindo told reporters.
"Times have changed, the industry has changed, we are more globalized and the impacts of the financial markets on oil continue to be magnified," Barkindo said during a news conference at CERAWeek by IHS Markit.
Related CERAWeek story:Production cuts doing well, but Saudi minister offers caution to market
Barkindo said he dined Sunday with the heads of several US shale producers, including Hess Corporation and Pioneer Natural Resources, and hedge fund managers, part of an effort he described as both an exchange of information and a new stage of cooperation between global market players.
Barkindo described this meeting as "contrary to previous practice" for OPEC, which previously viewed discussions with financial market players as "almost taboo."
"We all belong to this industry and they are key players in this industry," Barkindo said. "We are all in the same boat."
Barkindo's meeting comes as OPEC is in the midst of a landmark supply agreement between 13 OPEC members and 11 non-OPEC members, led by Russia. Under the deal, OPEC in November agreed to cut 1.2 million b/d from its October levels while the 11 non-OPEC countries agreed to cut an additional 558,000 b/d.
Barkindo said the deal will restore "stability and normalcy" to the world oil market, but analysts at CERAWeek also believe that it could stimulate a substantial increase in US shale output.
US production could grow as much as 600,000 b/d through the year, Aaron Brady, a senior director with IHS Energy Oil Market Services, said during a CERAWeek panel Tuesday.
Barkindo declined to comment on whether an dramatic jump in US oil supply would undermine the supply cut agreement.
"We are focusing first and foremost on the level of compliance," Barkindo said.
Still, Barkindo said Tuesday that US producers may have been impacted more than any other group in the global decline in oil prices, which he said caused US production to decline by about 1 million b/d.
US producers "felt the brunt," he said.
During a panel discussion, Barkindo said that next steps for the supply deal, such as whether it may be extended beyond June, will be based on how far global oil stocks have been drawn down in response to the cuts.
"That will determine how we will move forward," he said.
Copyright Ships & Ports Ltd. Permission to use quotations from this article is granted subject to appropriate credit given to www.shipsandports.com.ng as the source.