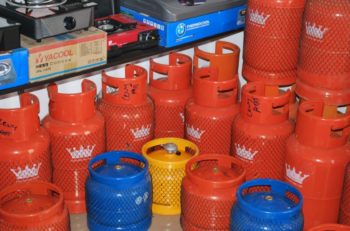 Compiled by Oluwatoyin Amao
The Nigerian government are not serious at all. They sit on the same verge of driving the gas into turmoil just like they did to crude oil. The shipping cost has increased, there is lateness in reception of gas from refineries and worldwide price index is not encouraging. Nigeria is a country that relies so much on other countries whereby the interest of such countries is to benefit from us rather than solve our problem.  The over dependency of this county is too much because I see no reason why we should join international unions on issues we can handle by ourselves just like the present gas issue at hand. They do say democracy is the government of the people whereas it is a government of few people because I don't know how they expect the masses to live because everything in Nigeria is high. The price of kerosene is on the increase whereby the masses try to switch to gas but now that gas has also increased, it means that they want people to go back to the traditional way of cooking
Taofeek Raji
Yaba, Lagos
What I can say is that we are not always conscious of the average individuals while carrying out our businesses. I discovered that whatever product or services that attract higher demand always end up with exorbitant charges/prices. Kerosene is what most average Nigerians use but the price is skyrocketing everyday and the alternative people could think about is the use of gas and that leads to more people demanding for gas. Increase of the price of the said product becomes high and that is the way it is for every other products that attract more and more demand in Nigeria. So, I am not surprised when I heard the increase in the price of LPG.
Segun Israel
Ilorin
It is terrible and outrageous. The hike of cooking gas has affected prices of food. This sudden increase is causing pains to Nigerians and mostly households. I hope something urgent is done as there is (no) substantive reason for the increment. We have gas especially cooking gas in abundance, except for vandalism of gas pipelines that will disrupt the flow of gas to relevant station.
James Asadu
Enugu State
Well, the increase in price of anything in Nigeria is no longer news. This is rather unfortunate as I see no reason for increase in price of domestic gas because the product is being sourced locally and with local currency; they cannot put this on forex. The prices of things are increasing but salaries remain the same! One spends more to buy what to cook and spend more even to cook it. I just feel something should be done about it.
Jesumuyiwa Mosebolatan
Abuja
This country is becoming something else. Back then, the common man could afford kerosene for their cooking but the price increased and cooking with gas became an option. Now that the price of gas is high and the common man is left with no choice than to buy the highly inflated gas. Citizens are not happy and if caution is not taken, it is only the rich that will be able to do the needful while the middle class and the poor will be left in the cold.
I think the recent unrealistic increase in the price of gas in Nigeria is simply preposterous. Considering the fact that liquefied petroleum gas (cooking gas) is produced and consumed locally here in Nigeria, there is no reasonable explanation for the sudden hike in its prices and it is causing undue hardship on the citizens of the country most of whom are already struggling with the current economic situation in the country. I urge relevant authorities to look into it, and review the current prices as soon as possible.
Bunmi Musa
Lokoja
Well, the increment in the price of cooking gas is really not encouraging at all. Some persons said it is as a result of the festive period. I am currently serving in Akwa Ibom State, I stay at the Christian family house and we do a lot of cooking every day and we use 12.5kg of gas for less than three weeks. We were previously filling our 12.5kg at N4000 now it is between the range of N5000 and N5500. The increase is really much and kerosene is not cost effective, we now alternate between gas and firewood which is not healthy for us. We are really hoping the price comes down quickly because it is making things difficult for us here. If there is a way they can get more suppliers to supply the products at an affordable rate, it will really go a long way.
Ogechi Abel 
Surulere, Lagos
It is appalling. People are now scared coupled with the price of things in the market now, some people haven not been paid salary for months now, some over a year especially here in Kogi. So, the means of going for gas is not available. Even those who have gas, no means of refilling it and it is making people to use charcoal and even firewood as an option.
Victoria Gabriel
Lokoja
Sudden increase in price of cooking gas is a negative shock to all gas users in the country. An increase in price and the stress involved in using kerosene divert people's attention to gas as close substitute in recent time. Evidence shows that there is no increase in price of gas globally. The increase in price of gas is just within Nigeria and cannot be justified by the Alabama Gas Corporation (ALGASCO). Only one out of three terminals has gas and decided to increase price by about 45 per cent. What this implied is that those using this product for business would have to increase the price of their product. Also some users might switch from gas to wood which is dangerous to human health. Hence, the government needs to intervene in this as soon as possible for the reverse of the price.
Sadiq Olaiwola
Lagos
It is so saddening because I am also a victim. I paid N4,000 to buy 10kg two days ago which I usually get for N3,000. It is a by-product of petrol refineries and it should increase output but some marketers deliberately hoard. Government can intervene by regulating the price.
Babatunde Bello
Kaduna
It is a terrible experience and not the best for Nigerians. I will say humility promotes unity. Perhaps, our rulers in Nigeria, as the case may be should be humble enough to put the citizens they serve first. The kleptomaniac and scandalous appropriation and looting of our commonwealth may then become a thing of the past. Our rulers do not put us first in their plans. They make life worst for the public. I doubt if it can be curtailed because our leaders make policies to suit themselves and forget about the masses. How many of them go to refill their used gas? They only sit in their comfort zone and dish 'wrong' policies that affect us.
Seunpaul Abolude
Ibadan
Copyright Ships & Ports Ltd. Permission to use quotations from this article is granted subject to appropriate credit given to www.shipsandports.com.ng as the source.