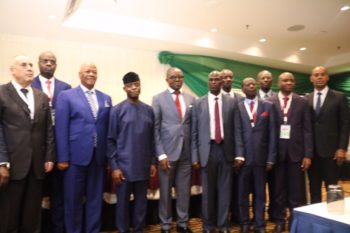 Vice President Yemi Osinbajo has urged African countries to diversify their economies and look beyond oil-based revenue for future prosperity.
Osinbajo made the call in Abuja while declaring open the Extraordinary Session of the Council of Ministers of African Petroleum Producers Organisation (APPO).
He noted that while oil and gas have continued to remain the mainstay of African economies, there is the need for the re-investment of oil revenues through diversification to prevent economic crises resulting from over-dependence on the product.
He said, "We must also redouble our efforts to achieve the following: One, to diversify our economies away from the dangerous overdependence.
"And two, to ensure that we invest as much as is possible of today's current oil and gas revenues in the infrastructure and human capital that will underpin future economic growth and development.
"We must keep in mind that oil and gas are only guaranteed as today's resources, and not necessarily tomorrow's.
"We cannot bet on the fact that even a few decades ago from now these natural resources will be as central to the global economy as they are today.
"All serious economies around the world have realised this, and are making determined plans for a world beyond oil or as they say a zero-oil wealth.
"As African countries, we cannot afford to act differently."
The vice president said that the oil and gas industry was a capital-intensive one, noting that as individual countries, there was lack of the resources required to make the necessary investments to grow the industry.
According to him, this is especially so because these investments are competing with infrastructure and social services, for the limited resources available to governments.
He said that by serving as a platform for increased collaboration and cooperation among member countries, the organisation would go a long way towards helping overcome such financial challenges.
Osinbajo stated that increased synergy would help mobilise the investments needed to deliver the major infrastructure required by the industry, such as trans-border gas and oil pipelines, joint refineries and gas plants.
He said, "Nigeria, as most of you know, is already leading by example, with our work on the West Africa Gas Pipeline Project, and the Nigeria-Niger collaboration on refining.
"In the increasingly interdependent world in which we live, greater levels of regional economic integration are required, allowing the free flow of the dividends of research and technology."
The official said that APPO needed to seriously look beyond public sector ownership of its activities and tap into private sector competencies and models to a greater degree.
Osinbajo praised the organisation for embracing reforms of the sector to confront the challenges facing it and the choice of Nigeria's oil Minister (State), Ibe Kachukwu, to drive the reforms.
He gave the assurance that Kachikwu would not let the organisation down having carried out "some far-reaching reforms in Nigeria's petroleum industry to the admiration of the administration".