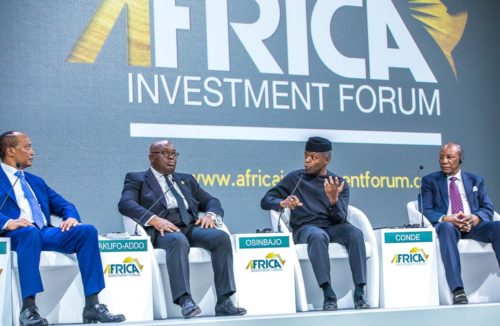 Vice President Yemi Osinbajo said Nigeria still remains one of the best investment destinations in Africa even as ease of doing business continues to improve.
Prof. Osinbajo disclosed this on Thursday at the ongoing Africa Investment Forum holding in Johannesburg, South Africa.
Speaking during the second Presidential Investment Chat panel, Osinbajo said all bottlenecks hindering businesses were being done away with and many business owners now carry out their business with fewer hitches.
He also said certain incentives were planned for new businesses in the country to encourage more investors.
"We have established industrial council and this works on policy and our vision on industrialization in the next coming years'', he said.
He said a number of ICT companies were spring up across the country, adding that in the next few years, tremendous improvement would be witnessed in this sector.
He said Fintech firms are especially giving hope to the government and the people of Nigeria that job creation would keep improving.
But he added that "we need to allay fears of the banks. This AI is not about taking their lunch but payment systems are happening much faster so we have to change our systems''.
"We're trying to work with the banking system.  Major issue is that the technology is disrupting the financial space; so banks need to reform''.
Osinbajo spoke on the panel alongside President Nana Akufo-Addo of Ghana, President Alpha Conte of Guinea, Prime Minister Philemon Yang of Cameroon, and the Chairman of African Rainbow Limited, Patrice Motsepe.
In an interview later on the sideline of the Forum, Osinabjo said Nigeria is on the track as far as investment drive is concerned.
He said the country's huge spending on roads, the continuous establishment of Independent Power Plants and spending improvement on transportation give hope that there would soon be huge improvement in the economy.  
Copyright Ships & Ports Ltd. Permission to use quotations from this article is granted subject to appropriate credit given to www.shipsandports.com.ng as the source.