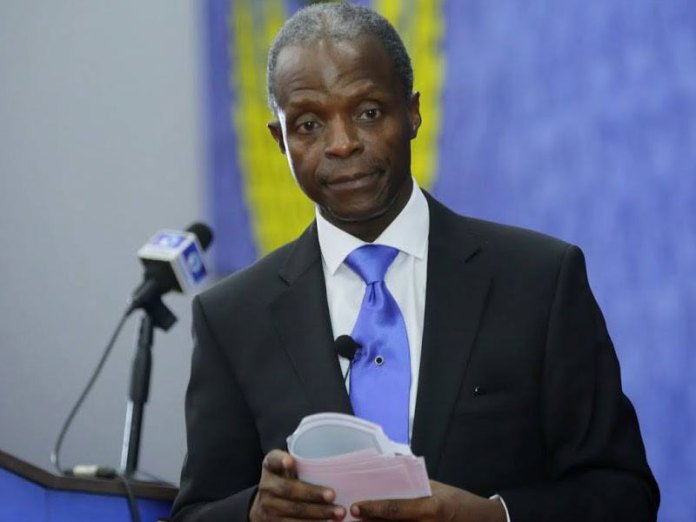 Vice President, Yemi Osinbajo has said that Nigeria's infrastructure deficit remains a huge opportunity for discerning investors if the right synergy is created between the government and the private sector.
Speaking at a breakfast meeting on financing transport infrastructure, inland dry port and truck transit park organized by the Nigerian Shippers' Council in Lagos on Thursday, Osinbajo advised the NSC and prospective investors to develop the proposed facilities in an integrated way to help the country in its economic diversification drive.
"We have the infrastructure opportunity in Nigeria. It is not a problem. It is a huge opportunity that we need to come together and develop the synergy to take advantage of. Infrastructure (deficit) is described as a crisis; a problem but I see it as opportunity.
"Specifically in the transport sector, what we have to do is think about infrastructure in an integrated way. We have to think about the TTP and the inland dry port in an integrated way particularly to diversify and grow our economy," Osinbajo, who was represented by his Senior Special Adviser on Infrastructure, Kolade Sofola said.
Also speaking at the evet, Transportation Minister, Rotimi Amaechi urged investors to partner with government to close the infrastructure gap through investment in the physical and organizational structures in the country.
He said the federal government had approved and concessioned the establishment of six IDPs and will ensure that they become port of origin and destinations to enable them operate effectively like other seaports across the globe.
The dry ports, he said, would provide opportunities for investment, noting that Nigeria holds lucrative investment potential.
He said, "Our desire in the transport sector is to ensure that intermodal means of transportation is developed in the country. We don't have infrastructural deficit. What we have is infrastructural opportunities. If you put your money, you get back your money and you get profit out of it. So people who have already invested should please go and develop their inland dry port.
"With the concession of the six inland dry ports across the country, it was a given that the TTPs will be inevitable since road transport accounts for over 90 percent of all freight and passengers movement in the country," he said.
Also speaking, Chief Executive Officer of Nigerian Stock Exchange (NSE), Oscar Onyema, suggested that government could utilize public private partnership or full privatization to attract private funding into the proposed IDPs and TTP projects.
He said that the NSE was committed to developing innovative ways to finance the nation's transport infrastructure in order to accelerate the growth of key sectors of the economy.
"Leveraging established PPP funding mechanisms can utilize the NSE platform to gain access to low-cost and long-term capital, which can be achieved through issuance of public bonds by a project company or incorporating a separate company to issue bonds and lend the proceeds to the project company," he said.