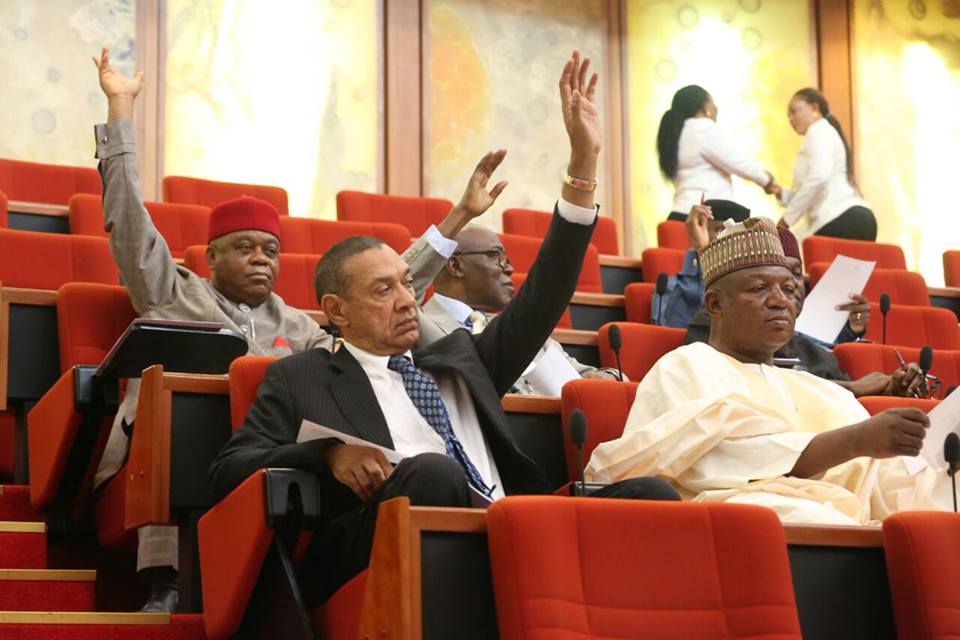 The Senate has said that it will investigate the death of 26 young Nigerian girls in the Mediterranean while travelling to Italy.
The resolution was made after a motion on the issue was raised by Sen. Rose Oko (PDP-Cross-River) during plenary on Thursday.
The upper chamber also commended the Italian authorities for immediately stepping into the matter with the hope of resolving the mystery behind the deaths. 
It called on the Federal Government to set up an inter-agency committee of the Ministry of Foreign Affairs, Nigeria Immigration Service and the National Agency for the Prohibition of Trafficking in Persons to work out a strategy to check such development.
The lawmakers also called on government to declare a state of emergency on unemployment and come out with more proactive measures to engage the youth.
"On Nov. 6 it was reported by national and international media, the gruesome story of the dead bodies of 26 young Nigerian girls of ages 14 to 18 discovered in a Spanish warship.
"The suspicion was that they were sexually abused and murdered," Oko said.
She noted that there was mass exodus of young Nigerian boys and girls illegally attempting to migrate to Europe, especially to Italy and Spain.
"These journeys are through the perilous long and hazardous Sahara Desert and the Mediterranean sea.
"They run into the hands of bandits, are abused and raped and the dangerous sea waves often in rickety rubber boats.
"This has led to the death of several of them almost every week," she said.
She said that as of May, it was reported that about 10,000 Nigerians had perished along the Sahara Desert-Libya- Mediterranean Sea route.
She noted that Italian prosecutors who had begun investigation into the death of the girls had arrested an Egyptian and a Libyan as suspects.
She said, "This mass exodus of our children from the relative safety and security of home to the often cold hands of death have arisen and are increasing as a result of the economic hardships at home, including the unemployment situation in Nigeria."
She said it was time to go beyond the mere feeling of horror to taking pro-active, urgent and emergency measures to address the root causes of the exodus, including massive enlightenment on the dangers therein.
Oko added that an inter-agency cooperation and collaboration was urgently needed by government to address this problem.
Sen. Shehu Sani (APC-Kaduna) described the incident as a national tragedy.
"It is unfortunate that year in year out thousands of Africans, including Nigerians, perish on their way to Europe in search of greener pastures," Sani said.
He said that factors that led to the exodus included poverty, economic instability, unrealisable dreams and illusions as well as other components related to drug trafficking and terrorism.
"It is unfortunate that we continue to ignore this tragedy that is before us; 26 lives lost is one tragedy too many," Sani said.
He called for action that would stop young men and women from falling prey to the antics of drug peddlers and human traffickers.
"It is high time that the relevant agencies of government did everything possible to stem the tide," he stated. 
Sen. Suleiman Adokwe (PDP-Nasarawa State) said, "Since the Italian Government was investigating, it is expected of the Nigerian government to by now, make definite statements as to how they will expect the Italian government to investigate this thing thoroughly.
In his remarks, the Deputy President of the Senate, Ike Ekweremadu, who presided over plenary, said government owed citizens of Nigeria the responsibility to provide the basic needs of life.
He said, "We must not fail on this responsibility. It is important for us to think of how to provide social security for our people.
"We should ensure that every Nigerian has food to eat. There is no money on the streets outside the country.
''The young men and women should know that it is better for us to stay back in Nigeria and be able to build a better country."  
Copyright Ships & Ports Ltd. Permission to use quotations from this article is granted subject to appropriate credit given to www.shipsandports.com.ng as the source.