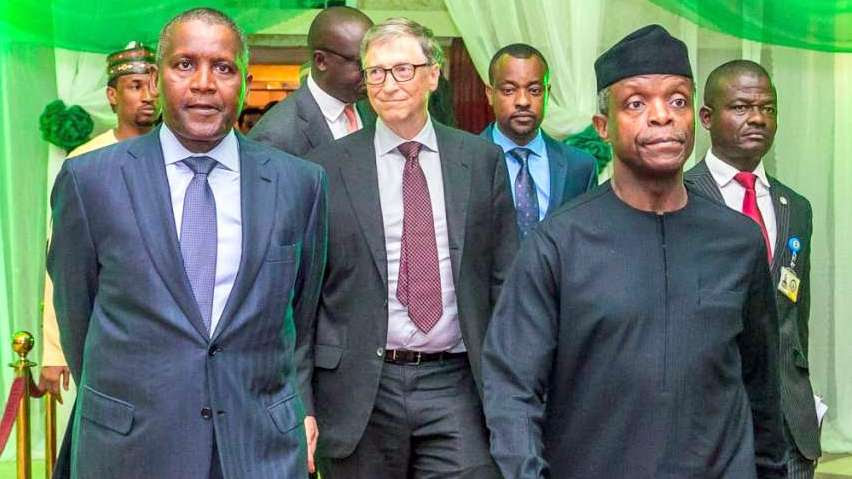 The Buhari administration has invested well in human capital, and has launched Nigeria's largest pro-poor programme ever, Vice President Yemi Osinbajo has said.
The remarks were made Thursday in an apparent effort to counter a stinging criticism of the administration's low human capital investment, made by the American billionaire, Bill Gates.
On Friday, Osinbajo's office circulated the remarks, which was said to have been made in Lagos during the 10th Bola Ahmed Tinubu colloquium.
Osinbajo was quoted as saying that despite the fall in the price of crude oil, the Buhari administration had implemented a N500 billion Social Investment Programme.
The Vice President said the Buhari administration was "determined to change the dominant narrative" about the country.
He said, "We were determined to ensure that the notion of a country rich in all natural resources, but even richer in human capital, but being destroyed daily by grand corruption, and the impunity in the looting of public resources; we had to change that narrative.
"We saw a nation where a few in office had so privatized the commonwealth that, while oil prices were at their highest and we were getting growth figures as high as 7%, the majority of people remained extremely poor. On one of our campaign trips in Zamfara State, Mr. President said, "Look at the eyes of this people," and of course, we saw the poverty and desperation in their eyes. Then he said, "They expect us to fix this problem of their poverty as soon as we get into office."
Osinbajo said the Buhari administration has invested heavily, not only in its Social Investment Programmes, but also in agriculture.
"So we decided on two things; one to invest heavily in Agriculture; to create jobs in the hinterlands, provide enough food locally and for all of the urban areas. In our agriculture programme, I'm sure that many would already agree that this has been a tremendous success. Several millions of Nigerians have been employed in agriculture. In fact, Mr. President tells the story of his own village where people used to lease out their farms to farmers from Kano. But now, nobody is leasing out their farms anymore. Everybody is on his own farm.
"Secondly we also decided to put in place an audacious Social Investment Programme to the tune of N500 billion, the largest pro-poor programme in our nation's history, and the largest social safety net, at least in Sub-Saharan Africa. This was despite the fact that by 2015, oil prices fell by over 50% and our production also fell from over 2 million barrels a day to less than 700,000 barrels a day, sometimes even 500,000 barrels in 2016.
"We have seen today the empirical evidence of the successes of this programme, and all of that is evident for us to see and listen to several testimonies and stories. 200,000 jobs for graduates employed under the N-Power programme, 300,000 more waiting to be employed; they have been pre-selected; over 7 million children being fed daily in 22 States so far; beneficiaries of microcredit loans going to about 300,000; and almost 300,000 households benefiting from conditional cash transfers."  
Copyright Ships & Ports Ltd. Permission to use quotations from this article is granted subject to appropriate credit given to www.shipsandports.com.ng as the source.