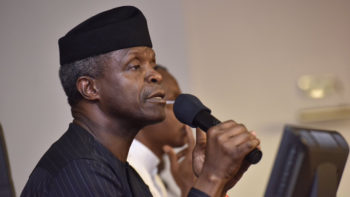 By Patience Danjuma 
Vice President Yemi Osinbajo has tasked D8 countries to depend less on oil as it becomes increasingly less attractive in terms of revenue generation and focus more on diversifying to other sources of revenues.
Osinbajo made this remark in Abuja on Tuesday while declaring open the 6th Meeting of D-8 Ministerial Meeting on Industrial Cooperation.
The D-8, also known as Developing 8, was set up officially on June 15, 1997 with member countries as Bangladesh, Egypt, Indonesia, Iran, Malaysia, Nigeria, Pakistan and Turkey.
The Vice President told the representatives of the countries that Nigeria is committed to working with the various Task Forces of the D-8 Ministerial Meeting on Industrial Cooperation to the targets of the founders of the D8 Organization.
He said the ultimate goal of the D8 countries is to promote industrial development and other economic activities in the global economy using the same platform to fast track the position of member countries.
The Vice President expressed appreciation to the President and people of Turkey for the warm reception accorded President Muhammadu Buhari and his team during the D8 Summit recently held in Turkey. He further described Nigeria's hosting of the 6th D-8 Ministerial Meeting on Industrial Cooperation as a way of consolidating the gains of the Summit held in Turkey.
Osinbajo attested to the fact that this collaboration and partnership amongst the D8 countries cannot be over emphasised given the enormous opportunity to diversify sources of revenue given the global economic downturn arising from the fall in commodities market.
The VP therefore, called on member countries to take advantage of this auspicious association to work together to alleviate poverty of member nations to create jobs for the teeming population and to diversify the economies of member nations. 
Copyright Ships & Ports Ltd. Permission to use quotations from this article is granted subject to appropriate credit given to www.shipsandports.com.ng as the source.