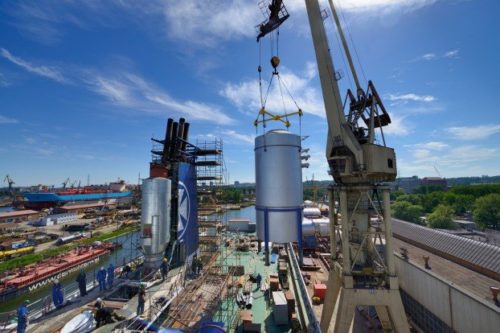 More than 10% of the world's containership capacity will be fitted with scrubbers by January 2020 when IMO's global 0.5% fuel sulphur cap comes into effect, according to analyst Alphaliner.
Scrubber fitted boxships will account for approximately 5.9% of the total number of containerships or 11.8% of the total fleet capacity by early 2020.
As at 10 December 2019, the number of containerships fitted with scrubbers have reached 212 units for 1.79m teu, with a further 101 units currently at repair yards undergoing retrofits, Alphaliner noted.
"More scrubber fitted containerships are expected to be delivered in the next two years, including both newbuildings and retrofitted units, that could possibly bring their total number to some 1,000 ships for 10m teu by the end of 2022," Alphaliner stated.
The high take-up rate for scrubbers reflect the attractive economics for these ships with the current price spread for low sulphur fuel oil (LSFO) over heavy fuel oil (HFO) already reaching $250 per tonne, which would provide operators of these ships with substantial savings compared to conventional units that would need to switch to 0.5% sulphur fuel.
Related: Scrubber installations take 3.6% of the container shipping fleet out the market
"However, the long line of containerships waiting to enter repair yards for the installation of scrubbers, coupled with extended yard stays are costing carriers dearly in vessel downtime. For the larger ships, the cost of the downtime could be as much as $30,000 to $50,000 per day," the analyst observed.
The average yard stay for ships undergoing retrofits in 2019 have reached 59 days, with 17% of these ships taking longer than 80 days to complete their retrofits.
"MSC has been the most badly affected by these delays, with at least 15 of its ships clocking yard stays of over 80 days. The yard delays are also causing severe congestion with at least five MSC ships currently waiting for up to eight weeks to enter the repair yards, with shipyards in the Zhoushan region in China especially congested in the last two months," Alphaliner said.
Despite these delays, MSC will still stand to gain the most from its investments in scrubbers, Alphaliner pointed out.
To-date, MSC has confirmed orders for some 250 scrubbers of which 49 units have been delivered with a further 31 retrofit installations currently in progress.
"These ships will be able to enjoy the lower price of standard heavy fuel oil, with current IFO380 bunker price dropping to just $255 per tonne compared to LSFO price of over $510 per tonne (based on Rotterdam prices)," Alphaliner stated.
Meanwhile, smaller boxships of under 3,000 teu in capacity have failed to reap any benefits from the scrubber movement, as this market segment continues to be affected by a chronic overcapacity.
Alphaliner said the segment sees "no expectations of extra demand from scrubber retrofits idlings as very few ships are retrofitted."
Only 13 ships of 1,000-2,000 teu, for instance, have been retrofitted this year, representing 1% of this size range while a meagre four units are currently in yard for scrubbers.
"Furthermore, owners with unemployed tonnage on their hands are willing to find employments prior to the 1 January IMO deadline in order to burn the high sulphur fuel oil remaining onboard their ships rather than to have to spend money in de-bunkering it once the deadline is reached. The end of year lull may thwart such plans," Alphaliner said.