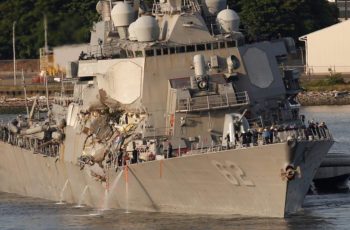 The crew of the USS Fitzgerald was likely at fault in the warship's collision with a Philippine cargo ship in June and had not been paying attention to their surroundings, according to initial findings in an investigation, a U.S. defense official told Reuters on Friday.
Multiple U.S. and Japanese investigations are underway into how the USS Fitzgerald, a guided missile destroyer, and the much larger ACX Crystal container ship collided in clear weather south of Tokyo Bay in the early hours of June 17.
The collision tore a gash below the Fitzgerald's waterline, killing seven sailors in what was the greatest loss of life on a U.S. Navy vessel since the USS Cole was bombed in Yemen's Aden harbor in 2000.
"There was not a lot that went right leading up to the crash. There were a string of errors, but they did a lot after the collision to save lives and the ship," said the official, who spoke on condition of anonymity.
The official said that in addition to crew members not paying attention to their surroundings, they did not take action until it was too late.
While the investigation is not complete, the official said crew members had given statements and radar data had been gathered, and it was unlikely the findings would change.
A U.S. Navy spokeswoman said the investigation was in the early stages and it was premature to speculate on the causes.
The incident has spurred a number of investigations, including those by the U.S. Navy and a probe by the United States Coast Guard on behalf of the National Transportation Safety Board. The Japan Transport Safety Board and the Philippines government are conducting separate investigations.
Last month Reuters reported that an account of the incident by the Philippine cargo ship's captain said that the U.S. warship had failed to respond to warning signals or take evasive action before the collision.
The ACX Crystal had been chartered by Japan's Nippon Yusen KK. 
Copyright Ships & Ports Ltd. Permission to use quotations from this article is granted subject to appropriate credit given to www.shipsandports.com.ng as the source.