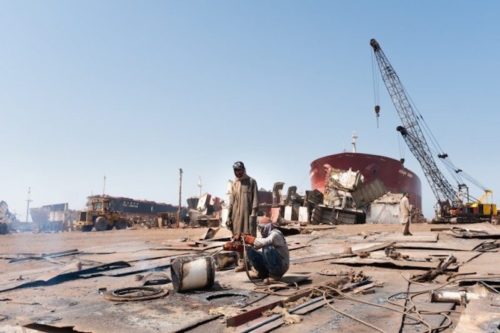 Pakastani officials have reportedly shut down all ship breaking activities at Gadani yards after two separate accidents this month left three workers with critical injuries, the NGO Shipbreaking Platform said Friday.
The first accident took place on October 11th when a tanker caught fire on the beach in Gadani. Fortunately, no casualties were recorded, but just a few days later, on October 14th, another oil tanker caught fire, this time injuring seven workers including three critically.
The ship breaking ban comes after Pakastini officials lifted an 18-month ban on the import of end-of-life tankers for demolition this past April. The import ban was put in place after a series of accidents at Gadani yards, including one in which 29 workers were killed.
It was unclear how long the new ban will be in place.
Gadani is home to one of the world's most notorious stretches of beach where shipbreakers continue to use the controversial 'beaching' method for the demolition of end-of-life vessels. According to the NGO Shipbreaking Platform, which tracks and advocates against ship beaching, in 2017 there were at least recorded 10 deaths at yards in Gadani.
"Ship owners should be held accountable. They carelessly sell vessels to cash buyers that bring the ships to the Pakistani yards. The high profit margin is a clear indicator of destination: the higher the price, the worse the yard", says Ingvild Jenssen, Director of NGO Shipbreaking Platform. "We are concerned over the political clout ship owners seem to enjoy: Greek owners alone are responsible for 1/3 of the ships that are currently beached in Gadani, yet Greece is pushing hard to undermine European laws aimed at improving practices globally."
Of the 835 large oceangoing commercial ships that were sold for scrap in 2017, a total of 543 ships were intentionally run ashore and dismantled by hand on the beach at yards in Bangladesh, India and Pakistan, representing just over 80% of the total tonnage scrapped worldwide during the year, according to the NGO Shipbreaking Platform figures. 
Copyright Ships & Ports Ltd. Permission to use quotations from this article is granted subject to appropriate credit given to www.shipsandports.com.ng as the source.