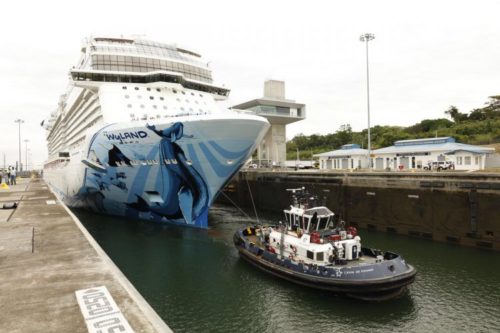 As the severe dry season continues the Panama Canal Authority has announced a sixth draught reduction for vessels transiting the neo-panamax locks, to 13.11metres (43 ft) effective 28 May down from 13.41 metres (44 ft) Tropical Fresh Water (TFW) which was effective 30 April.
Similarly, the Maximum Authorised Draught for vessels transiting the panamax locks will be 11.73 metres (38.5 feet) Tropical Fresh Water (TFW).
Vessels arriving after 28 May, 2019, with draughts over the above-mentioned maximum draughts may be allowed to transit, depending on the actual level of Gatun Lake at the time of transit. Otherwise, they will be required to trim or off-load cargo in order to be allowed to transit.
Draught adjustments will be announced in 12-inch (30.5 cm) decrements, generally with at least four weeks advance notice.
As a severe dry season has affected the levels of Gatun Lake and Madden Lake, the Panama Canal has taken measures in order to reduce the impact of the dry season by using the water-saving basins, closing the Gatun hydropower station, as well as implementing the Panamax Water Conservation Programme, the ACP said last month.
The North American Agency of Atmospheric Administration (NOOA,) warned that there is an 80% chance of the El Niño phenomenon continuing until June and a 60% probability that El Niño will continue until next August.