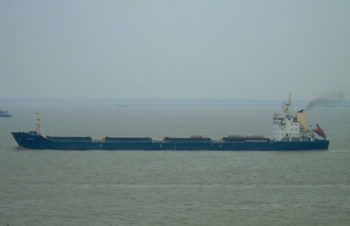 The Panama Maritime Authority has initiated a process of canceling the registration of the ships under its flag as the two vessels are suspected of breaching the sanctions against North Korea.
Orient Shenyu and Koti, both flying the Panamanian-flag, have been linked to transporting of banned cargo to or from North Korea.
Orient Shenyu, also known as Glory Hope I, has been included on the list of ten ships the U.S. proposed for blacklisting by the United Nations Security Council.
The bulk carrier is believed to have engaged in exporting North Korean to other countries, which has been prohibited under the sanctions against North Korea aimed at chocking sources of funding that could end up supporting Pjongyang's missile program.
Panama-flagged product tanker Koti was seized at Pyeongtaek-Dangjin port, south of Incheon by the South Korean authorities in December 2017, as the vessel is believed to have transferred oil products to North Korea in spite of international sanctions.
The 5,100-ton tanker is being probed by the customs officials over suspected ship-to-ship transfers.
On December 22, 2017, the UN Security Council imposed harsher sanctions on North Korea, banning the direct or indirect supply, sale or transfer to the DPRK of crude oil, refined petroleum products, and various types of equipment and raw materials.
It was decided that vessels believed of being involved in such activities would be seized, inspected, and impounded.
Copyright Ships & Ports Ltd. Permission to use quotations from this article is granted subject to appropriate credit given to www.shipsandports.com.ng as the source.