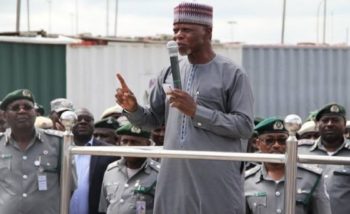 The Nigeria Customs Service (NCS) has expressed the hope of exceeding its 2017 record of revenue collection performance of N1.3 trillion, appealing for support from all Nigerians.
The Public Relations Officer, Joseph Attah, told newsmen on Friday in Abuja that the NCS received the Federal Government's support in 2017 "and this would translate to more patrol vehicles and equipment to perform even better in 2018".
"We are prepared to do more of what we did last year and we look forward to breaking the record of 2017 in 2018 by God's grace," he said.
Attah, who expressed displeasure over stories in some national dailies that implied that the service was having lingering friction with the National Assembly, described such stories as "disturbing ".
He said, "For avoidance of doubt, we want to say that the relationship between NCS and
the National Assembly is cordial. There is no problem and we have no reason to blame the respected body for what is generally accepted as a very good performance in 2017.
"How do we (Customs) blame an individual or an organisation when many are commending the service for a job well done in terms of revenue collection and suppression of smuggling?
"We are not reporting something negative, we are reporting something positive, does it make sense to blame somebody for performing very well?"
Attah also said that the service generated a total sum of N1.037 trillion at the end of 2017.
According to him, the reinvigorated anti-smuggling operations in 2017 raked in a total of 4,492 assorted seizures with a duty paid value of N12.78 billion.
He added that the seizures include the 2,671 pump action riffles, dangerous drugs, vehicles and rice, among others, noting that 207 suspects were arrested in connection with the seizures.