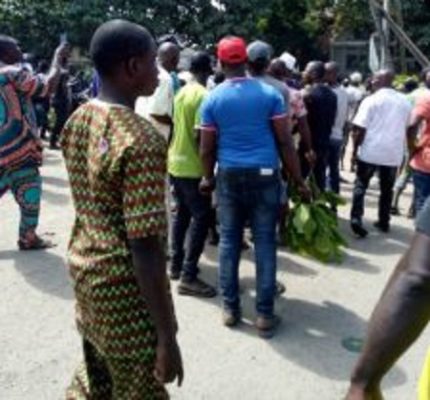 The Lagos Port Complex Apapa was on Friday thrown into pandemonium as personnel of the Nigerian Navy clashed with truck drivers over alleged extortion causing chaos within the port area.
SHIPS & PORTS gathered that the fracas, which disrupted port activities Friday morning, ensued when the truck drivers led a protest against naval operatives managing traffic on the Apapa Wharf Road.
Unconfirmed report said two people were killed in the fracas.
According to an eyewitness account, "The truck drivers are complaining over the navy continued presence on the road. So this morning; they reacted against the naval operatives. We heard the drivers mobilised and destroyed the shanties that the naval men use to shelter themselves to collect money on the Ijora Bridge. Later the naval men mobilised themselves and started shooting."
When contacted, the Chairman, Association of Maritime Truck Owners (AMATO), Chief Remi Ogungbemi told SHIPS & PORTS that the drivers were protesting against harassment, extortion and brutality of the taskforce headed by the Nigerian Navy.
He said, "We have been asking the authorities to withdraw naval personnel on the road henceforth because their excesses is becoming too much. We can no longer tolerate their militant approach. They are very inhuman and maltreating the drivers. At times, they smash the light of the truck; destroy the headlamp and that is not the best. We are comfortable working with Lagos Traffic Management Authority (LASTMA) and the Federal Road Safety Corp (FRSC) but Navy should go back to their barracks.
"They (Navy) are supposed to pass truck directly from Lilypond to the port but they will on their own pass the trucks outside Lilypond while those at Lilypond would not be attended to. Even some trucks that NPA officials passed out from Lilypon; Navy sometimes will return them back to Lilypond. They are just passing the trucks indiscriminately and it looks as if NPA does not have control over their excesses."
The truck drivers had on Thursday accused the Navy of scuttling the call-up system arrangement and use of the Lilypond terminal as a transit park by the Nigerian Ports Authority (NPA) to ease traffic.