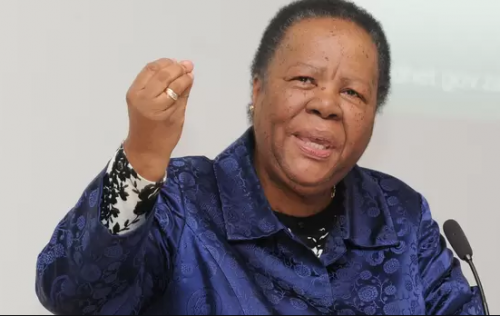 Amidst the brewing diplomatic row between Nigeria and South Africa sparked by the latest massive burning of business premises and looting of property belonging to Nigerian nationals in South Africa, the South African Foreign Affairs Minister, Naledi Pandor a few days ago added salt to the injury Nigerians have been trying hard to contain. Pandor said during an interview with a local news website that Nigerians in South Africa deal on drugs, human trafficking and other related criminal activities in their country.
Pandor said, "I would appreciate them in helping us as well to address the belief our people have and the reality that there are many persons from Nigeria dealing in drugs in our country. I believe that Nigerian nationals are involved in human trafficking and other abusive practices."
She requested Nigerian authorities to help ensure that such persons do not come to their country, particularly asking for President Muhammadu Buhrai's help in tackling different criminalities in the country, stressing that Nigeria "needs to help address the belief that its countrymen are involved in criminal activities".
These remarks coming from a South African Minister, minister of foreign affairs, for that matter speaks volumes about the involvement of the government of South Africa in the xenophobic attacks on Nigerians and other Africans in the former apartheid enclave. Obviously, her view represents the view of the government of South Africa.
Put side by side with the statement credited to the country's Deputy Minister of Police which had seemingly justified the attacks by questioning the rationale for the preponderance of foreign nationals in their cities, no one is left in doubt as to the deep involvement of South African government in these xenophobic attacks. Of course, the South African police are known to have supervised the arsons and lootings against Nigerians and other Africans. They always stand by watching, and after days of continuous looting, will then make half-hearted show of arrests, and the well-known and very organized criminals will never face any prosecution.
Though Nigeria's own Minister of Foreign Affairs, Mr. Geoffrey Onyeama, reacted swiftly and called the obtuse-looking woman to order, but should that be all about Nigeria's response to Pandor's audacious insult? Onyeama had condemned Pandor's statement, accusing her of fueling xenophobic attacks. He described the statement as 'outrageous stigmatization of a people from senior government officials that fuel xenophobia and embolden criminals'.
But this is as far as Nigeria could go in responding to this gratuitous insult on her citizens in South Africa. No one challenged Pandor to produce statistics of Nigerian drug dealers, human traffickers and other criminals arrested and prosecuted in South Africa. Granted that there are Nigerian citizens who are criminals in South Africa; granted that Nigeria, like any other country, including South Africa, has its own share of criminals in many parts of the world, is that enough for Pandor's senseless generalization and stigmatization of a people?
From her statement, almost all Nigerians in South Africa are criminals. Only a few  of them are doing legitimate business, therefore justifying the burning and looting of their premises and the wanton killings and cold-blooded murders of Nigerians going on in the country. By this statement, is Pandor saying that the Nigerian nationals whose shops were burnt on September 1 in Johannesburg and looted for three days are drug dealers and human traffickers?
In the last three years, and up to July 2019, some 127 Nigerians had been killed in South Africa, 13 of them masterminded or killed by the Police. Between January and June 2019 alone, 10 Nigerians were killed in that country. As at the latest count, the tally from 2016 has increased to 200.
Barely two months ago, Mrs. Obianuju Ndubuisi-Chukwu a Nigerian insurance chief who visited South Africa, was gruesomely murdered in her hotel room. While Nigerians were mourning her death, a Nigerian high school teenager, Chinonso Obiaju was killed in a street in Johannesburg. According to his guardian, "He went to buy from a shop with his friend and someone chased and opened fire on them, killing him."
The case of Pius Abaziem also needs to be called to mind. Abaziem was having breakfast in his house in Eastern Cape Province when he was picked up among many by eight policemen, some of them masked, and taken to his home where he was extra-judicially murdered. Unknown to them, his sister-in-law was recording the scene with her phone, thereby making it difficult for the murder to be concealed.
Somebody should, therefore, ask Pandor if all these Nigerians killed in South Africa were drug dealers, human traffickers and criminals. It is a shame that the South African government is justifying and fueling the barbaric killings of fellow Africans in their country, and passing off raw hatred or xenophobia as "resentment-driven Afrophobia". It is clear that the xenophobic attacks on Nigerians and other Africans wouldn't have reached the present alarming level if the government had not been encouraging it by its utterances and body language.
If as Pandor implies all the Nigerian nationals in South Africa are criminals, is killings and extra-judicial murders the way a decent and civilized society responds to criminals and criminalities in their country? One expects that criminals in a country, whether local or foreign should be arrested and prosecuted according to the law of the land. Nigeria should therefore request to know how many Nigerians have been convicted in South Africa of drug and human trafficking.
The government of South Africa, as part of the ongoing efforts to find diplomatic solution to the face off that ensued from the latest mindless burning and looting of business premises of Nigerians in South Africa, should call its foreign affairs minister, Pandor, to order for fueling the anger of Nigerians. Her statement is most indiscreet, senseless and ill-timed. President Buhari should see Pandor's statement for what it is: a calculated and gratuitous insult on him and Nigeria, and respond appropriately.
Copyright Ships & Ports Ltd. Permission to use quotations from this article is granted subject to appropriate credit given to www.shipsandports.com.ng as the source.