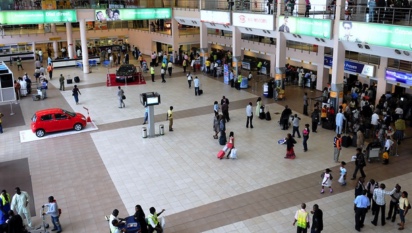 Hundreds of passengers are stranded at the domestic terminal of the Murtala Muhammed Airport 2 (MM2), Lagos on Wednesday, as aviation unions carried out their shutdown threat over the sack of workers by Bi-Courtney Aviation Services Limited (BASL).
The unions involved in the shutdown are Air Transport Services Senior Staff Association of Nigeria (ATSSSAN), the National Union of Air Transport Employees (NUATE) and the National Association of Aircraft Pilots and Engineers (NAAPE).
They disregarded a Federal High Court order granted Tuesday restraining them from disrupting operations at MM2. The court granted the order in the suit filed by Bi-Courtney Aviation Services Limited (BASL), operators of MM2.
The unions had given notice that they would disrupt operations at MMA2 from today over the disengagement of some workers of BASL who they said were disengaged for their alleged attempt to join them, but who the company said had attained retirement age or were found not to be diligent in their duties.
BASL said Tuesday, "We will like to bring it to the attention of the entire public that the Federal High Court in Lagos in suit number FHC/L/CS/16412/18 has granted an order restraining the unions from carrying out their threats of disrupting the activities of the terminal. Pursuit to this order, members if the unions found in the premises of MM2 would be liable to trespass. We reserve our right under the law of Nigeria to deal with such person as a trespasser".
BASL also assured customers and passengers of MM2 that they will continue having seamless access to the facility.
The statement said: "BASL is fully aware of the plan by some unions in the aviation sector to disrupt the operations of MMA2 over our decision to disengage some employees. Disengaging the ex-employees had nothing to do with unionism, as we were not aware of this. In as much as we know that the unions have the right to protest without disturbing public peace and safety, we too reserve the right to ensure that our operations and services are not interrupted in any way whatsoever."