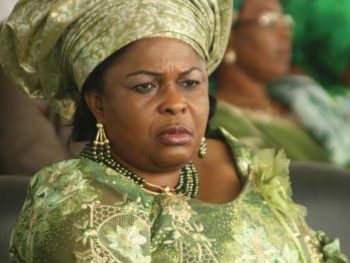 The Court of Appeal in Lagos has dismissed an appeal filed by Patience Jonathan, wife of former President Goodluck Jonathan, over the temporary forfeiture of her $5.7million.
The former First Lady had appealed against a ruling by the Federal High Court in Lagos which temporarily ordered the money's forfeiture to the Federal Government.
The Court of Appeal upheld the temporary forfeiture order made by Justice Mojisola Olatoregun on April 26 last year.
Justice Olatoregun made the order based on an ex-parte application filed by the Economic and Financial Crimes Commission (EFCC) through its counsel,  Rotimi Oyedepo.
She also ordered the temporary forfeiture N2,421,953,522.78 found in an Ecobank Nigeria Limited account numbered 2022000760 in the name of La Wari Furniture and Baths Limited.
The EFCC said the money also belongs to Mrs. Jonathan.
The Court of Appeal similarly dismissed an appeal filed by La Wari Funiture and Baths.
Through her lawyer, Chief Ifedayo Adedipe (SAN), Mrs. Jonathan urged the court to declare Section 17 of Advance Fee Fraud Act unconstitutional for being in conflict with the Evidence Act and the 1999 Constitution.
In a judgment delivered by Justice Mojeed Owoade on Friday, the appellate court held that the appeals lacked merit.
It upheld Oyedepo's arguments and resolved the issues against the appellant.
The court upheld the constitutionality of Section 17 of the Advance Fee fraud Act, which empowers the EFCC to apply for the forfeiture of property reasonably suspected to be proceed of unlawful activity to the federal government.