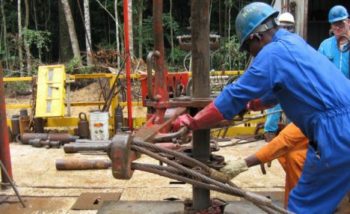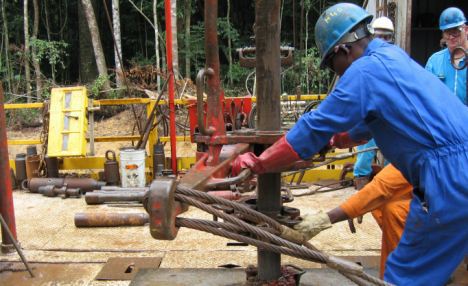 Kenya has cut the share of revenue communities receive from local oil discoveries to 20 percent from an earlier offer of 30 percent, a senior government official said on Friday.
The move will hit the northern county of Turkana, where Tullow Oil discovered commercially viable quantities of crude in 2012. Full production of the oil, estimated at 750 million barrels, is expected in 2021.
Other partners in the blocks where Tullow has discoveries are Africa Oil Corp and A.P. Moller-Maersk.
In draft legislation last November the government seemed to have acquiesced to the community's demand for a 30 percent share of revenue. However, that version of the law was later withdrawn, with the government citing "typographical errors".
A new draft is due to be introduced to parliament next month and Andrew Kamau, principal secretary for petroleum at the Ministry of Energy, told Reuters the new bill will offer 15 percent of the revenue to the county government and 5 percent to the community, with the rest going to the national government.
"The national government looks at everybody's interests. So there is no way we are trying to take away something from the oil producing communities," he said. "It is all about sustainability."
Aden Duale, who leads government business in the national assembly, confirmed the formula in the new version of the bill.
The government estimates that at the peak of production, based on current oil prices, it will earn about $1.2 billion a year from oil exports, Kamau said.
It also plans to acquire an additional 15-20 percent stake in the blocks where discoveries have been made, by exercising its "back-in" rights, which typically allow a state to buy back in to blocks with proven reserves.
It plans to fund the purchase of that stake through a listing of shares on the London and the Nairobi stock exchanges and the issuance of debt before the end of this year.
Kamau said they could house those shares in a special purpose vehicle for fundraising purposes, contrary to earlier reports they would be offering the shares through state oil company NOCK.
"You need to get some money to acquire this asset," he said, putting the target figure at $800 million to $1 billion.
On Thursday Kenya invited bids for engineering and design of a $2.1 billion pipeline to move the crude, he said.
With only 70-80 wells drilled across Kenya and only 10,000 sq km of sedimentary basin explored, out of 400,000 sq km, Kenya is considered a frontier country for oil.
Eni, Shell and Total are among the companies exploring eight blocks in the country.
"We are really at the beginning of finding out what is in the ground. We don't have that much data," Kamau said.
Agency Report