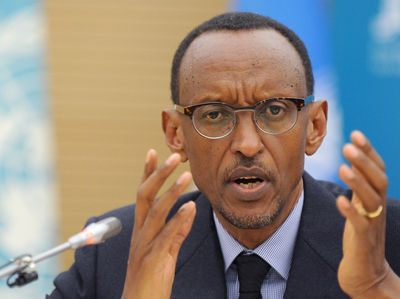 The President of Rwanda, Paul Kagame on Monday said "Nigeria is sorting things out" to get on to the the African Continental Free Trade Area (AfCFTA). 
In March 2018, 44 countries — including South Africa, Ghana, and Rwanda — signed the African Continental Free Trade Area (AfCFTA) to ensure easy transborder trade on the continent.
So far, 22 countries have ratified the agreement but only 21 have ratified and passed it through their individual parliaments. 
It is expected that when 22 countries pass it through parliament, the agreement will take effect, but Nigeria's refusal to sign the deal remains a challenge for the trade deal.
President Muhammadu Buhari, who was initially on board, made last-minute U-turn on the deal, and has refused to sign, stating that he was consulting with manufacturers in Nigeria.
But speaking on the matter in Kigali on Monday, Kagame said, "With Nigeria, from my reading of things, there are sorting things out in that direction, they would be naturally part of the continental free trade area because of the sense it makes.
"And it makes that sense to Nigeria as well, especially given the benefits and impact it will have on Nigeria and also Nigeria impact on the economy of the continent. The facts are very obvious, we are getting there".
Asked if he was talking to President Muhammadu Buhari on getting Nigeria to come on board, Kagame said, "Not at the moment, but we were talking to President Buhari in the build-up to where we are now, and I think that is as significant as talking to him now." 
The agreement was brokered by the African Union (AU) with Kagame as president and was signed on by 44 of its 55 member states in Kigali, Rwanda on March 21, 2018.
The agreement initially requires members to remove tariffs from 90 percent of goods, allowing free access to commodities, goods, and services across the continent.
Copyright Ships & Ports Ltd. Permission to use quotations from this article is granted subject to appropriate credit given to www.shipsandports.com.ng as the source.