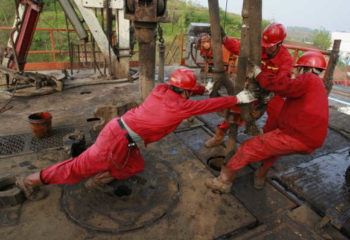 The Petroleum and Natural Gas Senior Staff Association of Nigeria (PENGASSAN), has appealed to the Federal Government to stop the wave of redundancy in the oil and gas industry in the country.
PENGASSAN president, Francis Johnson, made the appeal while speaking with newsmen at the ongoing 5th Triennial National Delegates' Conference of PENGASSAN on Thursday in Abuja.
The theme of the conference is: "Emerging Trends in the Oil and Gas Industry and its Impacts on Labour Movement in Nigeria.
"We demand that the government should stem the wave of redundancy in the oil and gas industry, especially by the International Oil Companies (IOCs) and other service companies.
"We have resolved to resist the growing redundancy tendencies in the industry under any guise.
"We demand that the no process of redundancy shall be undertaken by any management without express involvement of the National Secretariat of the Association.
"We therefore demand that National Petroleum Investment Management Services (NAPIMS), should put in place a clear policy statement to address this unfortunate trend in the industry," he said.
Johnson, however, frowned at the management of the Oil and Gas companies for continuous disobedience to the tripartite agreements reached between their managements, unions and the Federal Government.
He said that the oil and gas managements have failed to keep to agreements and directives of the Ministers of Labour and Employment and the Petroleum Resources to ensure job security.
He noted that this was an affront to constituted authorities in the country.
"We call on the managements of the Oil and Gas companies in Nigeria to respect the laws of the lands as well as the constituted authorities in Nigeria.
"We also urge the management to respect duly signed Collective Bargaining Agreements and ensure that it reduces friction in the industrial landscape of our oil and gas industry, " he said.
On the economy, PENGASSAN president commended steps taken by the Federal Government to ensure level of stability in the FOREX policy, which has eased the problem of getting foreign exchange for businesses.
He called on government to further enhance the value of the Naira and hasten the implementation of other economic policies that will bring succour to the Nigerian masses and improve their standard of living.
He also appealed to government to improve industrialisation in the country to reduce dependence on importation and enhance job creation.