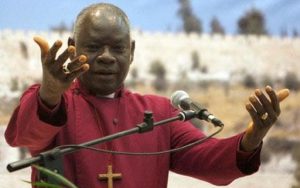 The Chancellor of Ajayi Crowther University, Oyo, Most Rev. Peter Akinola, has called on the Federal Government to enforce a strict ban on importation of goods that could be produced in the country.
Akinola made the call on Wednesday in Oyo at the 8th convocation ceremony of the university in Oyo.
The 319 students were awarded first degrees, with 16 graduating in first class category, 66 in second class upper division, 125 in second class lower division and 111 in third class.
Akinola said that goods like rice, canned food, fruits, vegetable oil, wine, champagne, liquor and furniture could be produced locally.
He said, "Our inability to develop and sustain local industries and our penchant for foreign goods and services and even for food have caused foreign reserves to dwindle.
"We import with reckless abandon; we also shamelessly import polished white rice to the neglect of our far more nutritious Abakaliki, Bida and Ofada brown rice.
"Our import bill has continued to rise much higher than export receipts.
"Our currency has no advantageous platform from which it can compete favourably with international currencies."
Akinola said it was disheartening that one American dollar now exchanges for over N400.
He also said that government borrowing at this time was not the right path to recovery from recession, saying it was more likely to mortgage the country's future.
"We have to wake up from our slumber and work hard productively with our hands and live on what we produce or manufacture in our land.
"It's not impossible. It was done before. We can do it again. Given the right political environment, Nigeria can be great again.
"Both the government and the governed need to realise that it is time we all change our lifestyle of flamboyance to reflect the reality of economic recession.
"We cannot be in recession and still be living as if there was known."
Akinola congratulated the graduands, urging the returning students to be godly and pious in all their dealings with students, faculty management and staff of the university.
In his address, the Pro-Chancellor of the university, Chief Wole Olanipekun (SAN), urged the graduands not to forget that their character was a currency as important and expensive as the substance of their knowledge.
Also speaking, oil magnate and keynote speaker at the occasion, Mrs. Folorunsho Alakija, urged the graduads to emulate the good virtues of the late Bishop Samuel Ajayi Crowther.
Alakija in her speech entitled, "Go The Extra Mile," said Crowther's hallmarks were motivation, passion, diligence, godliness, integrity and pioneering spirit.
She urged them to believe in themselves, eschew negative mindset and be ready to take risks, saying such traits were to be possessed to "go the extra mile."
A former head of state, retired Gen. Yakubu Gowon, professor emeritus Oladipo Akinkungbe, business guru, Oba Otudeko, retired Justice Timothy Oyeyipo, and Alakija bagged honourary doctorate degrees.
Responding on behalf of recipients, Gowon commended the institution for considering them worthy of honour.
He said it was a call to duty, adding that the awardees would not relent in contributing more to the institution, the nation and humanity.
Also speaking, Mololuwa Jonah, the overall best student in her speech, expressed gratitude to the management of the institution as well as the academic and non-academic staff for reshaping their lives.
Jonah pledged that they would continue to be good ambassadors of the institution while ensuring that the knowledge acquired was put into good use for the benefit of humanity and the nation.
Copyright Ships & Ports Ltd. Permission to use quotations from this article is granted subject to appropriate credit given to www.shipsandports.com.ng as the source.