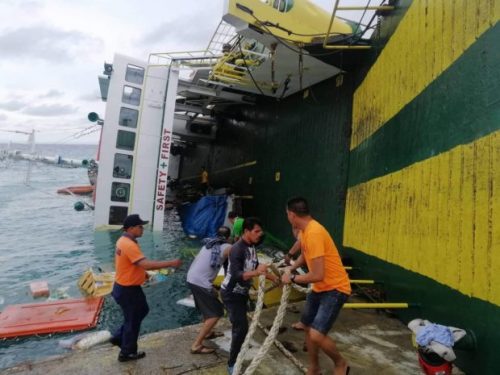 More than 160 people have been rescued from a Philippine roll-on/roll-off (RoRo) vessel, which tilted to one side on August 31, 2019.
Specifically, the Philippine Coast Guard teams rescued a total of 149 passengers and 18 crew members from Mika Mari 8 which subsequently submerged at the Port of Consuelo in Camotes Island, Cebu.
Four of the passengers suffered minor injuries and were brought to Ricardo Memorial Hospital for medical intervention. Luckily, no casualties were reported.
The incident occurred while the vessel was disembarking vehicles at the pier in the Philippine municipality San Francisco.
At the time of the incident, Mika Mari 8 just arrived in Consuelo from Danao Port.
"Upon finishing the docking procedure and while disembarking the vehicles, a 10 wheeler truck encountered a transmission problem and slip on the starboard side of the vessel which caused a balancing problem," the Philippine Coast Guard explained.
The RoRo vessel is operated by the country's transportation company Jomalia Shipping Corporation (JSC). The company has a fleet of five RoRo and two high-speed ferries.