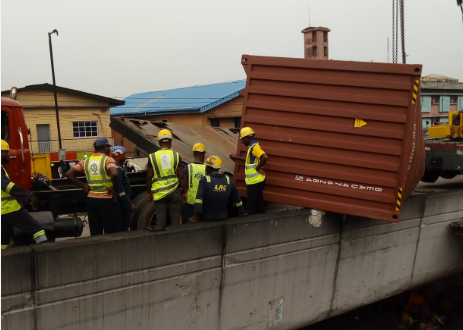 A 40-foot container fell off a truck again on the bridge at the Ojuelegba area of Lagos on Tuesday afternoon, causing heavy traffic in the area. The traffic extended from Ojuelegba down Western Avenue to as far as Apongbon on Lagos Island, with many commuters stranded. 
The commuters and motorists, who had closed from work and were heading home from the Islander were caught in the ensuing gridlock.
It appears truck accidents have become a regular feature at Ojuelegba with little or no action from the authorities at both the state and federal levels.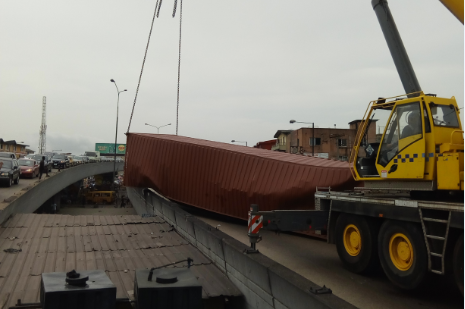 On September 2, 2015, a 40-feet container fell off the bridge in Ojuelegba and trapped two vehicles. While the occupant of one of the vehicles, a white Nissan Sunny with number plate DG 750 LND escaped unhurt, the three passengers in the second vehicle, a black Toyota Camry with number plate LSD 532 CN, were crushed to death.
Also on July 22, 2016, another container-laden truck was involved in an accident at Ojuelegba, causing heavy gridlock in the area while on June 19, 2018, a truck fell off the bridge and crushed some vehicles leading to the death of three people with several others injured. 
The driver of the truck involved in the latest accident blamed it on the gear, while eyewitnesses blamed it on the poor state of the truck.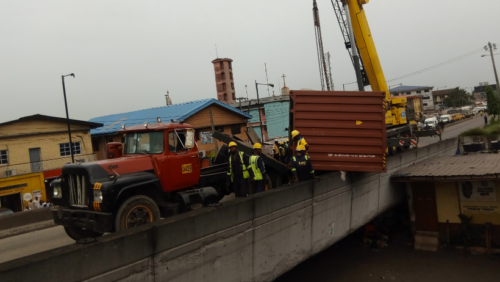 "As I was climbing the bridge, a bus overtook me and I had to stop. When I set out after the bus left, the gear dragged me back and the container turned and fell.
"It is not because of the break. There is no casualty. I was not the only one in the truck, we were three in number, but nothing happened to any of us," he said. 
A commercial driver plying the area believes that the truck was in a poor condition, even as he blamed the authorities of not ensuring standardisation of trucks plying the roads in Lagos. 
"This happens every time and many people die because of the recklessness of truck drivers, the negligence of truck owners and government officials who are supposed to be controlling traffic and ensuring safety on the roads. 
"They are quick to arrest cars and buses but collect money from truck drivers and look the other way.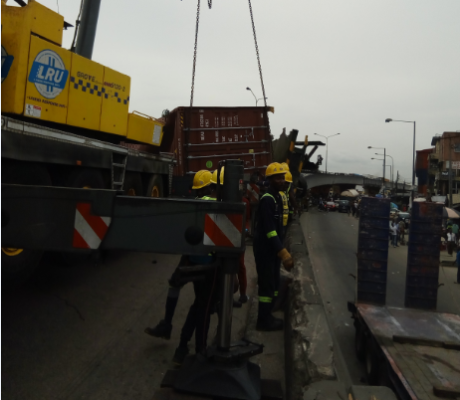 "Some years ago when a container fell off the (Ojuelegba) bridge and killed many people, the Lagos State Government came out to make some public announcements and even banned trucks from using the bridge, but that was the end of the matter. No enforcement. 
"By the following day, we all went back to our normal lives s if everything was fine until another accident again. It is unfortunate," the driver, who identified himself as Tobi Hassan, said.