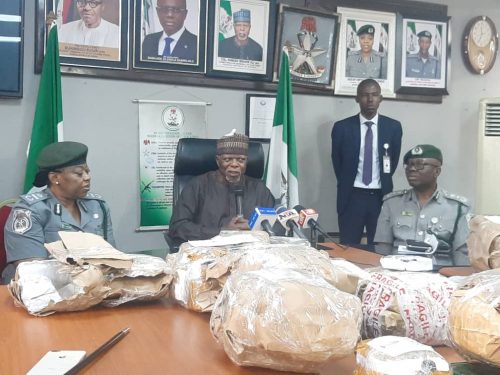 Operatives of the Nigeria Customs Service (NCS) have seized $8.065 million at the Murtala Muhammed International Airport (MMIA) command in Lagos. 
The Comptroller-General of Customs, Hameed Ali, who announced the seizure at a press briefing in Lagos on Tuesday, said the money was intercepted in a bus belonging to the Nigerian Aviation Handling Company (NAHCO) at the airport tarmac when it was about to be loaded into an aircraft. 
Ali said the wrapped cash concealed in six bagco bags with names of would-be owners written on it, would be handed over to the Economic and Financial Crimes Commission (EFCC) for further investigation. 
He said the driver of the bus, one Chimezie Okonkwo, has been arrested in connection with the seizure while investigation is ongoing to unravel those behind the act.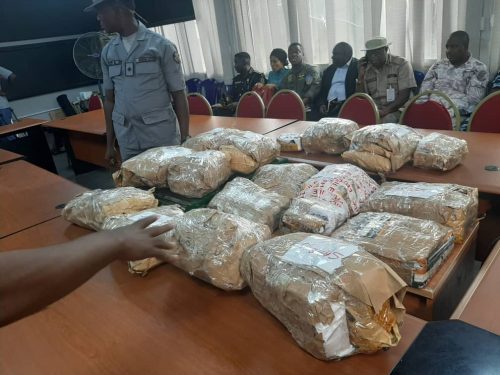 "Acting on credible information, the command operatives at about 1200 hrs on 16th January 2020 intercepted illegal movement of foreign currency at the 'E' wing of the tarmac. 
"The consignment packed in a coaster bus was loaded in six bagco bags. One suspect, the driver of the bus, Chimezie Okonkwo, was arrested and taken into custody with the intercepted consignment. 
"From the day we seized this money, no bank has come to claim ownership. But our investigation will reveal the mystery behind the owners," Ali said.
The Customs boss explained that the Federal Government currency policy requires any person travelling out of the country with an amount more than $10,000 or the equivalent in another currency to have them declared.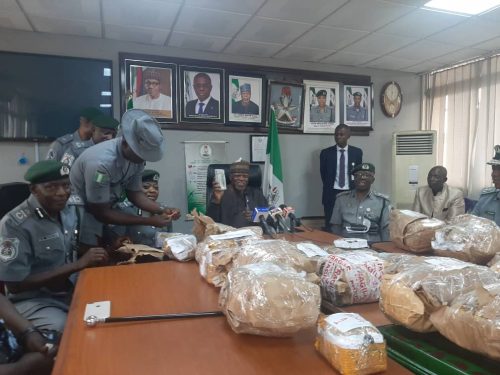 "Currently, the value of the threshold in Nigeria is the equivalent of $10,000 and above. Therefore, all travellers in and out of Nigeria must declare any physical cash in excess of this threshold of $10,000 or equivalent of other currencies or monetary instruments.
"The question is often asked: why do Customs or any agency of government need to know if a private person or company is taking out monies for their personal business out of the country? 
"It is for the reason that illegal criminal activities like international terrorism, drug smuggling, and arms proliferation are financed by illicit cash movements outside the recognised financial systems. Proceeds from other criminal activities like corrupt enrichments from public treasury are siphoned out of the country in cash," he said. 
Also speaking at the briefing, Controller, Murtala Muhammed International Airport Customs Command, Comptroller Wale Adeniyi, said his men relied on credible information to make the seizure.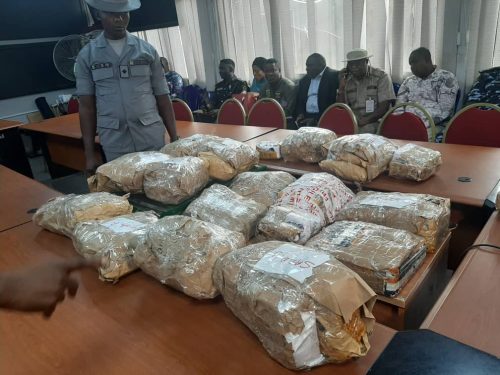 Meanwhile, in a separate development, operatives of the Federal Unit Zone A Ikeja, Lagos, said it intercepted 147 sacks of pangolin scales weighing 9,504.1 kg with a street value of N10.26 billion.  
Ali, who showcased the seizure at the Customs warehouse in Ikeja, said the sacks loaded in two 20ft containers were uncovered at an abandoned house in Isheri Estate, Lagos. 
Ali explained that Nigeria, as a signatory to the convention on International Trade of Endangered Species (CITES), categorises pangolin scales under absolute prohibition, hence its importation is illegal.
He said the seized pangolin scales would be handed over to the National Environmental Standards and Regulations Enforcement Agency (NESREA) for further investigation.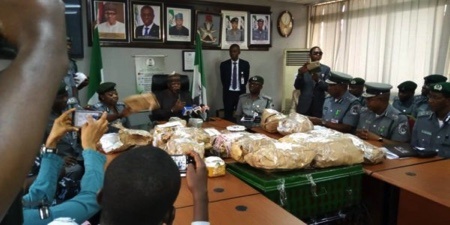 Ali listed other seizures made by the unit between 7th January and February 3rd to include 3,067 bags of smuggled rice; 3,722 of 25 litres and 1,040 of 4.73 litres of foreign vegetable oil. 
Others are 14 units of vehicles, 575 pieces of used tyres, 703 cartons of frozen poultry products, 543 jerrycans of petroleum products and 416 bales of used clothing with a duty paid value (DPV) of N303 million.  
NAHCO denies involvement 
The Nigerian Aviation Handling Company PLC (NAHCO Aviance) has distanced itself from the $8.6m intercepted by Customs at the Murtala Muhammad International Airport (MMIA) in Lagos.
"We wish to state unequivocally that NAHCO as an organization has no connection whatsoever with this alleged act," the ground handling firm said in a statement on Tuesday afternoon.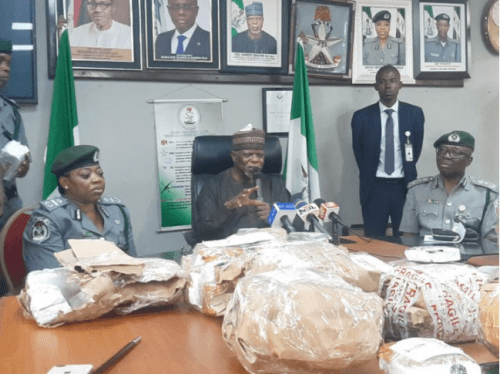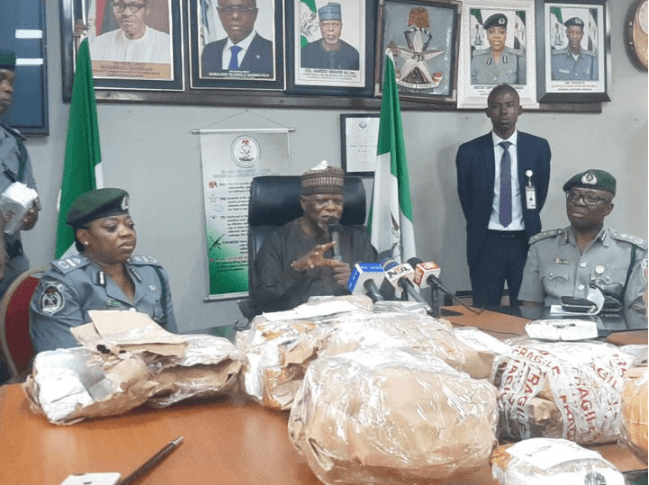 NAHCO said it has initiated contact with the Nigeria Customs Service to provide it with details of this incident.
The statement reads: "As a responsible corporate organisation, NAHCO will cooperate with all regulators, agencies and other stakeholders in not only finding out the truth about this unfortunate incident, but also rooting out malpractices in the sector.
"The Nigerian Aviation Handling Company does not condone irresponsible and criminal behaviour. The company takes seriously the trust of its esteemed clients, partners and other stakeholders, both local and international, and will do everything to protect that trust."