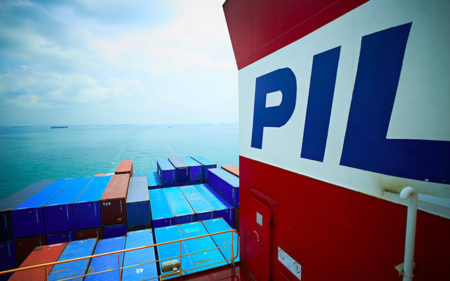 Singapore's container shipping company Pacific International Lines (PIL) has issued a statement to refute the bankruptcy rumours circulating on social media dubbing them as fake news. 
"PIL reserves the right to pursue legal actions against those who generate and spread these defamatory rumours during this COVID-19 pandemic period and related false information after this statement," the company said. 
The company has been shedding some of its tonnage over the past couple of months, having sold six 12,000 TEU container ships to Seaspan and Wan Hai.
The decision followed PIL's withdrawal from the transpacific market in an effort "to optimize the company's network efficiency". 
Last month, PIL also disposed of its shipping business Pacific Direct Line (PDL), which was bought by Neptune Pacific Line (Neptune). 
The company said its disposal of extra tonnage and PDL were part of its strategy to focus its resources on growing in the key liner markets that it operates in Asia, the Middle East, Africa and South America. 
However, the divestments sparked numerous rumours about the company's financial position especially in the wake of the COVID-19 pandemic, which slashed containership demand.
Refuting the reports, PIL said that all of its Chinese subsidiaries have resumed operations since March 9 and that it was preparing for a strong rebound after the epidemic.
"In the face of an increasingly complex and uncertain global market environment, PIL has remained resilient by embarking on a service rationalisation which will focus our efforts on key liner markets in Asia, the Middle East, Africa, Oceania and South America.
"Our strategic business integration has enabled us to be well-positioned in capturing market opportunities brought about by the Belt and Road Initiative (BRI), and moving forward, PIL will continue to strengthen our leading position in the North-South routes," the company said.