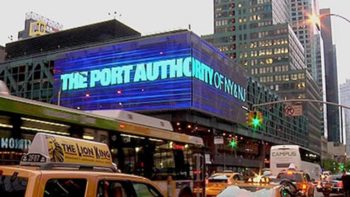 An explosion rocked New York's Port Authority, one of the city's busiest commuter hubs in midtown Manhattan, during Monday morning's rush hour, injuring several people.
Police confirmed one person is in custody but were not yet identifying the device used. Local news channel WABC cited police sources as saying a possible pipe bomb detonated in a passageway below ground at Port Authority.
A police officer near the scene said: "There was an explosion under Port Authority somewhere in the subway. That's all we've got for now."
Media reported several people were injured, and WPIX television reported, citing sources, that a man with a "possible second device" has been detained in the subway tunnel.
New York City Mayor Bill de Blasio and President Donald Trump have been briefed on the incident, according to local media and the White House.
"There was a stampede up the stairs to get out," said Diego Fernandez, one of the commuters at Port Authority. "Everybody was scared and running and shouting."
Agency Report