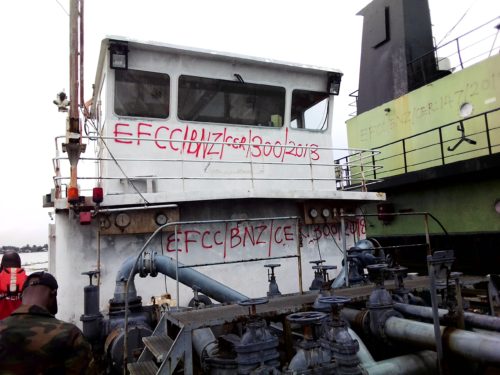 The Nigerian Navy said on Monday it currently has 52 vessels and no fewer than 40 persons in its custody for various alleged piracy-related offences.
The Flag Officer Commanding (FOC), Western Naval Command, Rear Adm. Habila Ngalabak, disclosed this while speaking with journalists during a one-day seminar for officers at the Nigeria Navy Ship (NNS) Quorra, in Apapa, Lagos.
The theme of the seminar is "Maritime Offences and Procedures for Arrest and Detention of Ships in the Nigerian Maritime Environment'.
Ngalabak explained that the seminar is to educate the officers to have a better understanding of procedures of arresting, detaining and prosecution of vessels.
He said, "The seminar is to refresh our minds on the issues of arrest, detention and prosecution of vessels at sea.
"The seminar could not have come at a better time than this because we are approaching December, so we have to get ourselves alert on our duties.
"We have 52 vessels of different classes and types presently in our custody for different offences and quite a lot of them are under litigation and investigation.
"Some are being investigated for us to know the type of offences and also the agency that they would be sent to for prosecution."
Ngalabak noted that he could not categorically give specifics on the exact time of the arrest of suspects because, over the years, the number of arrests keeps rising.
He said, "It's a situation that keeps changing. There are some that have been arrested and their cases have been disposed of from the list and others are still joining.
"It takes time for the prosecution to be concluded so some of them have been there for three to four years.
"In the last two to three months, we have really had a major arrest of maritime offenders which are piracy-related offences and within this period, we have arrested no fewer than 40 persons for one offence or the other."
Present at the seminar was the Commander, NNS BEECROFT, Commodore Okon Eyo and other commanding officers of various naval ships.
Copyright Ships & Ports Ltd. Permission to use quotations from this article is granted subject to appropriate credit given to www.shipsandports.com.ng as the source.