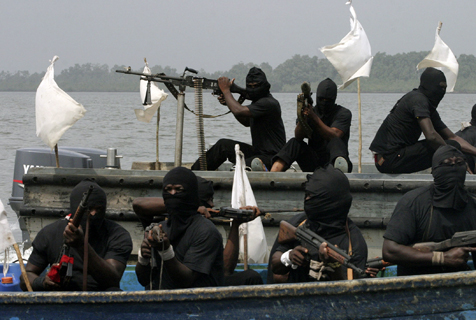 A group of armed men fired upon a containership suspected to belong to the Mediterranean Shipping Company (MSC) while it was underway some 19 nautical miles South West of Bayelsa on Tuesday.
The International Maritime Bureau (IMB) Piracy Reporting Centre said that around 15 armed persons chased the vessel in a speed boat before opening fire upon the ship.
The crew raised the alarm and the non-essential crew took shelter in the ship's citadel.
"The vessel increased speed and the armed naval guard onboard returned fire, resulting in the skiff aborting the attack and moving away," the piracy reporting centre added.
IMB did not reveal the name of the ship. However, AIS data points to MSC Grace being the targeted ship. MSC is yet to confirm the attack. 
Both the vessel and its crew are reported to be safe.  
In a related development, Pirates have released eight crew members kidnapped from the Greek tanker Happy Lady back in December as the vessel was anchored off the port of Limboh in Cameroon, on the Gulf of Guinea.
The eight sailors, including the ship's 45-year-old captain, were released following successful conclusions negotiations with the kidnappers, the Greek shipping ministry said in a statement.
The Happy Lady came under attack on December 28 as the ship was anchored approximately 2 miles offshore. Eight of the ship's 28 crew members were abducted, comprising five Greek nationals, two Filipinos and one Ukrainian. Another Greek crew member was injured in the attack.
The release comes shortly after pirates released nineteen crew members kidnapped from the tanker MT DUKE which attacked while underway in Gulf of Guinea last month. Unfortunately, one crew member who was also abducted has died from an illness.
The IMB Piracy Reporting Centre has reported an unprecedented rise in the number of crew kidnappings in 2019 in the Gulf of Guinea region, with the number of kidnapped increasing more than 50 percent year-over-year to 121 reported kidnappings.
The figure represents 90 percent of crew kidnappings globabally in 2019. The region also accounted for 64 total incidents, including all four vessel hijackings that occurred in 2019, as well as 10 out of 11 vessels that reported coming under fire. 
Copyright Ships & Ports Ltd. Permission to use quotations from this article is granted subject to appropriate credit given to www.shipsandports.com.ng as the source.