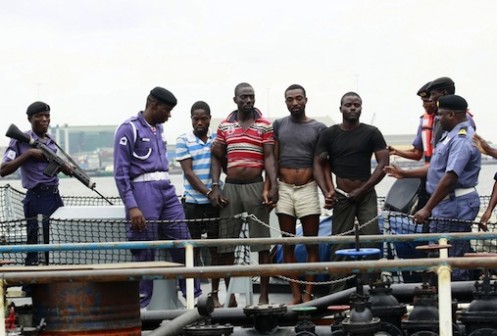 The Nigerian Navy Ship (NNS) Beecroft of the Western Naval Command (WNC) in Lagos has handed over two suspects and a vessel, Motor Tanker (MT) REDEEMER, to the Nigerian Maritime Administration and Safety Agency (NIMASA) for further investigation and prosecution.
The Commanding Officer, NNS BEECROFT, Commodore Abraham Adaji, who handed over the vessel, said she was arrested in Kirikiri on August 28, 2015, for alleged economic sabotage and other crimes.
He said, "At the initial stage, it was discovered that the vessel was not containing petroleum products illegally refined as was suspected.
"But in the course of the investigation, it was discovered that the vessel did not have a valid registration for being in the Nigerian waters.
"This is contrary to the laws of Nigeria and all efforts to get to the owner to complete the registration formalities and to take possession of the vessel had proved abortive.
"The owner has been evading the navy; instead of bringing the valid documents to be in Nigerian waters, he kept away. In this circumstance, we are left with no choice than to hand it over to the appropriate government agency.
"In this case, NIMASA is the appropriate agency that has the responsibility for proper disposal of the vessel in recognition of their responsibility for port control and marine safety and security.''
Adaji also said the arrested vessel constituted serious threat, not only to maritime safety but also to security of the Nigerian Port and the waterways.
While receiving the vessel, the Safety Director of NIMASA, Femowei Abel, said the agency would do the needful and get to the root of the matter.
He said, "Wherever we can get the owner of the vessel to compel him to do the necessary documentation, we will do that. We will also carry out the relevant surveys and see if the vessel is worthy to be registered to operate in Nigerian waters.
"If the owner refuses to show up, we will be in possession of the vessel and put up a marine notice giving him an ultimatum to appear before NIMASA to take possession of the vessel and do what is necessary."