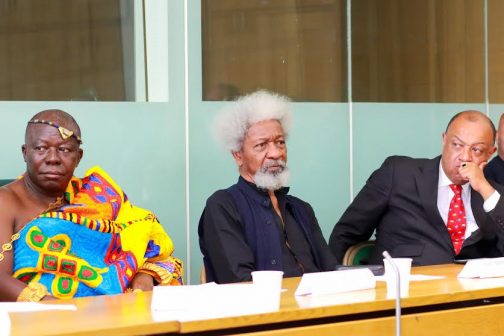 Nobel laureate, Prof. Wole Soyinka has disclosed that the services of international mediators will be sought to mediate between the Nigerian government and militants to resolve lingering crisis in the Niger Delta region.
The Niger Delta Avengers and other militants in recent time have been bombing oil installations in the Niger Delta, thus, crippling the economy of the nation.
Soyinka, who spoke at Westminster, London during the launch of two major African literature told the audience that all hope was not lost in Africa notwithstanding challenges of nation-building and difficult economic situations, some of which led to violence in the continent.
He said the current violence in the Niger Delta region of Nigeria and the blowing up of oil installation by some militants was an example of such economic frustration and a feeling of inequality among people who suffered most from the effect of extractive economies.
The Nobel laureate disclosed that an international observatory post of which he would be involved had held preliminary discussions with President Muhammadu Buhari and the leadership of the militants to resolve the crisis in the region.
He further said consultation with the Archbishop of Canterbury, Justin Welby; some members of the British Parliament, the Asantehene, Osei Tutu II would be pursued as an international mediation effort to help bring peace to the afflicted region.
Soyinka stated that it was some of these issues and conditions, which unfortunately serve as themes on contemporary literary production in Nigeria and other part of Africa.
Speaking at the event, the Asantehene, Otumfuo Osei Tutu II expressed an optimistic view of Africa's ability to overcome obstacles that lead to better democratic outcomes and engineer economic transformation of the continent.
He said democratic change of governments through "constitutional means of which election is the means and not the end, has created a big space for peace and security of nations."
Osei Tutu told who spoke on the topic: "Africa's Democratic Path and the Search for Economic Transformation," explained that stability and planning for development predicated by 16 presidential and parliamentary elections in Africa alone this year was an encouraging step of consolidating peace.
While expressing optimism, the king cited development data from Africa's own think tanks which he said had come of age as seen in their input leading to policy enrichment, outreach programmes and sensitization, safe-guarding electoral processes with the emergence of reforms in telecommunication and associated multi-media, adding that these had created a knowledge-based economy that did not exist in many parts of Africa two decades ago.
He said these benefits and new ways should however lead to adjustment in thinking and a strategy of less dependence on multi-donor budget support and financing of electoral reforms and institutions as they were not permanent fixtures.
"The growing into middle income economies has come with withdrawal of subsidies on these and the uncertainty of shocks in the global economy itself," he said.
The Asantehene also referred to infractions of politicians and their surrogates whether in Kenya where some members of their Parliament had to be arrested by the police for ethnic incitement or in Ghana where radio presenters threatened murder on the Lady Chief Justice and some Members of the judiciary.
Lord Paul Boateng of the House of Lords and of Ghanaian descent praised the Asantehene for his traditional leadership which he said fits finely into modernity and in particular his focus on education and agriculture.
Unfortunately, he said, Africa's agriculture is suffering from all fronts, a situation which affects millions of dependants.
The event was also a literary fanfare which saw the launch of two books: "May Their Shadows Never Shrink- Wole Soyinka and the Oxford Professorship of Poetry," edited by Ivor Agyeman-Duah, a Ghanaian author and Lucy Newlyn, a professor of English Language and Literature at the University of Oxford and "All the Good Things Around Us- An Anthology of African Short Stories," edited by Agyeman-Duah.
Hon. Diane Abbott, Shadow Secretary of Health who chaired the event spoke about cultural knowledge and understanding, especially literature which leads to identity confidence and better economic diagnosis.
At the event were members of both Houses of the British Parliament, the diplomatic community, faculty of universities and a select number of Ghanaians that included former President John Agyekum Kufuor, among others.