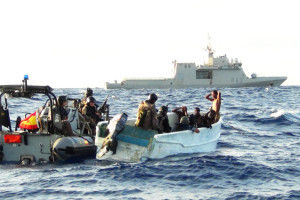 A Panamanian-flagged oil tanker Alheera was rescued by Chinese Navy from a pirate attack on Saturday while underway in the Gulf of Aden.
The ship was approached by a skiff with five pirates on board who were trying to board the tanker south off Balhaf, Yemen. The pirates reportedly fired at the tanker during the attempt to hijack it.
The crew managed to send a distress signal which was picked up by the Chinese navy.
Once informed of the attack, the Hengyang frigate of China's 25th convoy fleet was sent to the scene. According to Chinese media reports, the frigate's helicopter reached the tanker shortly and chased away the pirates. 
There were no injuries reported and the 2001-built ship was cleared to resume its voyage, the daily added.
According to Marine Traffic's latest data, the ship has armed guard on board, and is underway using engine.
The ship is owned by UAE's Gulf Energy and was built by Yardimci Deniz, VesselsValue data shows. The small clean tanker is laden with cargo.
Separately, two pirates were shot dead and one wounded by foreign naval forces while trying to hijack an unidentified ship near the Gulf of Aden, the Associated Press reported citing Ahmed Abdullahi, an official with the anti-piracy force in Puntland as saying on Sunday.
The two men were part of a group of nine pirates, the rest of which managed to flee the scene once the shots were fired.
Following a surge in armed pirate attacks on seafarers and their vessels in the area in 2008, counter-piracy naval forces and self-protection efforts by the maritime industry, managed to keep Somali piracy at bay. However, the recent rise in frequency of attacks in the Gulf of Aden have increased the need for extra vigilance when transiting the Indian Ocean. 
Copyright Ships & Ports Ltd. Permission to use quotations from this article is granted subject to appropriate credit given to www.shipsandports.com.ng as the source.