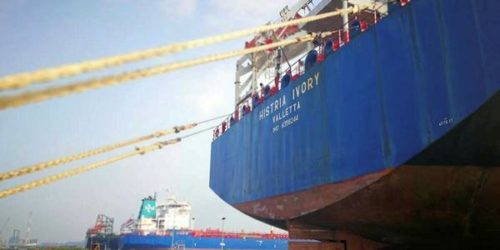 Pirates struck again in the Gulf of Guinea on Sunday as they attacked a tanker ship and kidnapped three Romanian sailors off Lome, Togo. This incident happened a few days after suspected armed robbers tried to board a containership owned by Singapore's Pacific International Lines (PIL) while the vessel was sailing on the high sea around Nigeria's Niger Delta region on February 21, 2019.
The Romanian Free Trade Union of Navigators, which confirmed the kidnapping of the three Romanian sailors in a statement yesterday, said the 40,500 dwt tanker named "Histria Ivory" was attacked by the pirates some 20 miles from the Port of Lome. 
After activating the alarm, the majority of the 21 Romanian sailors on board the ship mustered in the citadel. However, pirates kidnapped three crew members and escaped.
No injuries to the remaining crew members were reported.
After the pirates left, the 2006-built vessel was escorted by local authorities into the safe anchorage of Lomé. The vessel sustained damages during the hijack and needed to be repaired.
"The case is now under the responsibility of the competent entities that will take the appropriate measures to ensure that sailors are released safely," the union said.
At the time of the incident, the medium range 1 (MR1) tanker was en route from Freetown to Monrovia. Histria Ivory continued its voyage to Monrovia where it is scheduled to arrive on March 6, the ship's AIS data shows.
The vessel is owned by Romania-based company Histria Shipmanagement.   On the attempt to board the PIL ship, Asian anti-piracy watchdog, ReCAAP said "more than four men armed with guns onboard an unlit fast boat" attempted to board the 3,889 TEU Kota Satria on February 21. 
ReCAAP said two of the perpetrators attempted to hook a ladder to ship's hull but were not successful and slowed down the pursuit.
The suspected armed robbers reportedly fired two gunshots toward the ship's bridge and subsequently to the ship's accommodation.
"Kota Satria's master initiated security procedure and contacted company security officer as well as the company's armed escort vessel and the Nigerian Navy and carried out evasive maneuver. Consequently, the fast boat aborted the pursuit.
"There were no injuries to the ship's crew and no damage to the vessel reported. In addition, no items were stolen," ReCAAP said.
Following the incident, the post-Panamax boxship met an armed escort ship and proceeded to Onne Port in Rivers State.