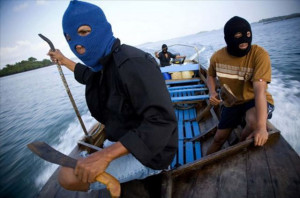 Six crew members were kidnapped from a general cargo ship which was attacked by pirates some 10 nautical miles off the Basilan Island, the Philippines, according to data provided by International Maritime Bureau (IMB).
In the incident, which occurred in the early morning hours on November 11, ten persons armed with guns approached the vessel while it was underway.
The armed persons boarded the ship and took its crew hostage. After stealing ship's properties, the intruders escaped taking six seamen with them.
One crew member was injured during the incident. The incident was reported to the Philippines Coast Guard, ICC IMB said, adding that a patrol vessel was dispatched and the authorities boarded and escorted the vessel to a safe port.
The incident comes on the back of reports that global piracy has shifted away from hijacking and towards kidnapping.
According to IHS Markit, the number of kidnappings now stands at 44 for the period from January to 30 September 2016 as 37 percent of crew involved in a piracy situation have been kidnapped during this period.
The number represents a significant increase compared to a total of 19 crew members who were kidnapped during 2015, while a year earlier, in 2014, only nine kidnappings were tracked.
Copyright Ships & Ports Ltd. Permission to use quotations from this article is granted subject to appropriate credit given to www.shipsandports.com.ng as the source.