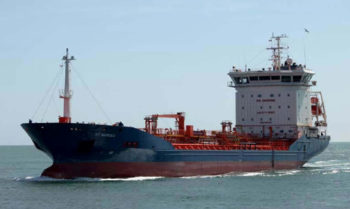 Heavily armed pirates on Monday, February 26, reportedly attacked a product chemical tanker named ST Marseille while it was at anchorage in the Bay of Cotonou, Benin Republic. 
This is the second pirate attack on ships in the area in four weeks. 
The Luxembourg-flagged ship was reportedly boarded by the pirates who arrived in a speedboat.
Upon boarding, they opened fire, killing two armed Benin Republic Navy officers. 
According to the International Maritime Bureau (IMB) Piracy Reporting Center, the two naval officers who guarded the ship suffered gunshot wounds during the hijacking.
All crew except the officer of the watch on the bridge retreated into the citadel.
IMB said, "As the armed persons made their way to the bridge they took hostage the officer and demanded the master, chief officer and chief engineer come on the bridge. 
"The armed persons demanded the master heave up anchor but when they were notified that the tanker was in ballast they stole crew properties, kidnapped the master and one engineer and left the vessel in the tanker's rescue boat."
Once the armed persons reached the shore they released the master and engineer who were able to make contact with the local police and later joined the tanker.
The crew members are reportedly to be safe. 
The 8,000-dwt St Marseille, built in 2008, is managed by ST Management, part of French Sea Tankers.   
Recall that on February 1, ship management firm Anglo-Eastern said it lost contact with one of its oil products tankers. The 45,989 dwt tanker, Marine Express, was at the Cotonou Anchorage, Benin Republic, when it was last contacted.
The vessel, carrying 22 crew members on board, was in part laden condition with some 13,500 tons of gasoline.  
The Panama-flagged oil tanker and its 22 Indian crew members were released five days later. 
It was not clear if ransom was paid to secure release of the ship and its crew.  
Copyright Ships & Ports Ltd. Permission to use quotations from this article is granted subject to appropriate credit given to www.shipsandports.com.ng as the source.