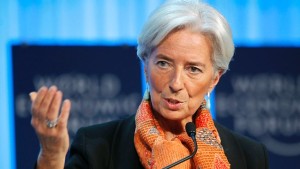 An American Airlines flight carrying International Monetary Fund (IMF), Managing Director, Christine Lagarde on Sunday made an emergency landing in Argentina shortly after taking off from Buenos Aires' Ezeiza airport, several local media outlets reported.
Local newspapers Clarin and La Nacion and local television station TN reported the flight, which was destined for the United States, experienced a drop in cabin pressure about 200 km (124 miles) north of the Argentine capital and returned to Ezeiza to land.
Lagarde had been in Argentina over the weekend for the G20 meeting of finance ministers and central bank presidents.
An IMF spokesman did not immediately respond to a request for comment. No injuries related to the incident were reported.
Agency Report