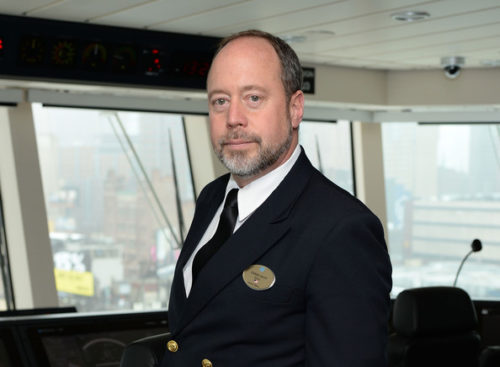 The U.S. Master of P&O operated cruise ship "Azura" is currently facing unprecedented charges brought against him by French prosecutors for the violation of European pollution limits.
Captain Evans Hoyt potentially faces a one-year prison sentence and/or a fine of up to EUR200,000.
This Monday marked the start of Hoyt's trial before the Criminal Court of Marseille. The case against him, reportedly together with the owner and manager of the vessel, Carnival plc., has arisen following a spot check by port authorities on the 2010-built "Azura" back in March 2018 in Marseille. It is understood that prior to the call to Marseille the vessel took on board a fuel oil stem of around 900 mt in Barcelona, which was then targeted by the authorities in Marseille and found to contain 1.68% sulphur. This is above the currently permitted European maximum sulphur limit of 1.5%.
The case comes at a time when there is an ever-increasing focus on the provision and use of low sulphur fuel, ahead of the IMO global 0.5% sulphur cap to control airborne emissions from ships. The cap is due to enter into force on 1 January 2020. In addition, air quality in Marseille currently is a politically sensitive subject following the issuance this year of results from French air quality controller, Airpaca rated Marseille as one of France's most polluted cities, and now ships are being cited as key culprits. Mr. Hoyt, however, is a high profile and experienced Master, having testified in 2012 on behalf of the cruise ship industry and cruise ship captains before the U.S. House of Representatives following the "Costa Concordia" calamity.
It remains to be seen how such a backdrop will impact on Hoyt's trial. According to French newspaper, Le Monde, defense lawyers are focussing primarily on a 2012 amendment to a European "Sulphur" Directive enacted into French law. The Directive states that a sulphur limit of 1.5% only applies to passenger ships (such as ferries) which provide regular services to or from ports of the European Union. Further, the defense argues, the sulphur limit increases to 3.5% for vessels not falling into that category and accordingly there has been no breach of European pollution limits.
The Court is expected to hand down a decision on 28 November 2018.  
Copyright Ships & Ports Ltd. Permission to use quotations from this article is granted subject to appropriate credit given to www.shipsandports.com.ng as the source.